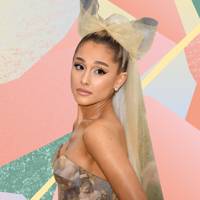 Ariana Grande has paid tribute to the Manchester victims in the most powerful way
Ariana Grande has been marking a year on from the tragic Manchester terror attack with a series of heartfelt sentiments.
The young star, who was performing in Manchester when a terror attack saw 22 people lose their lives and over 500 injured, first took to Twitter to write: "Thinking of you all today and every day 🐝
"I love you with all of me and am sending you all of the light and warmth I have to offer on this challenging day."
And now the star has unveiled a brand new bee tattoo in honour of the 22 victims.
The star took to social media to share a snap of the tiny inking, which is just behind her left ear, and captioned the it: 'Forever.'
The worker bee became the symbol of Manchester solidarity after the attack and many of Ariana's fans have followed her lead by getting their own.
It's given us - and her millions of followers - all the feels.
Earlier this week, Ariana attended a family vigil, which was led by her mum, Joan, in honour of those who had died.
The inking comes after Ariana spoke candidly about how she channelled her emotions into her music following the tragic Manchester terror attack.
She called the Manchester Arena attack the 'absolute worst of humanity'. Ahead of the first anniversary of the May 22 attack, in which 22 of Grande's fans died after leaving her concert, she told Time magazine : "Music is supposed to be the safest thing in the world. I think that's why it's still so heavy on my heart every single day.
"When I started to take care of myself more, then came balance, and freedom, and joy.
"It poured out into the music. We've messed with the idea of not being able to find the ground again, because I feel like I'm finally landing back on my feet now."
We're glad to hear it, Ariana.
Ariana recently appeared on The Tonight Show with Jimmy Fallon, which was her first television interview since the Manchester terror attack, which took place last year.
During the interview, she discussed her new album and what fans can expect, before talk turned to the tragic events that unfolded on May 22 2017.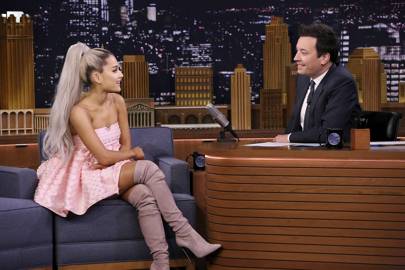 Jimmy said: "I know it's tough for everybody, tough for fans and tough for you, and I know you haven't done any interviews, and I understand that.
"I just wanted to say thank you so much for coming on the show and for being strong and for entertaining and for showing up and going back to Manchester and doing a benefit. I thought that was awesome of you. I just think you're so strong and so cool."
Ariana, visibly upset, just replied: "Thanks. Thank you."
Ariana explained that her new album, which is titled 'Sweetener' is "about bringing light to a situation, or to someone's life, or somebody else who brings light to your life, or sweetening the situation".
According to E!, her appearance on the show was record-breaking, bringing in over 3 million social interactions. The 24-year-old also performed her new single 'No Tears Left To Cry' for the first time on TV, which you can watch below.
Following the attack, which saw 22 people lose their lives and over 500 injured, Ariana put together the One Love Manchester benefit concert which raised over £4 million for all of the victims.
Prior to the concert, she paid a surprise visit to the Royal Manchester Children's Hospital and sat at the bedside of children who were still recovering from the attack.
Jaden Farrell-Mann, 10, was left with fractures to both her legs and shrapnel wounds from the terror attack and has undergone two operations.
The youngster happily tweeted: "I got to meet my queen today love you @ArianaGrande xxxxxx"
The singer also had photos with nurses at the hospital and dozens of other patients, including 14-year-old Evie Mills.
The horrific incident took place at around 10.35pm on May 22 after Grande performed her final song from the Dangerous Woman tour.
The explosion was detonated by a suicide bomber, who was named as 22-year-old Salman Abedi. Born in Manchester to Libyan parents, Abedi is thought to have made his way to the city from London in order to carry out his attack. Abedi set off a homemade bomb near the exit as fans were leaving the venue.
All 22 victims have now been named: Georgia Callender, 18; Saffie-Rose Roussos, 8; Olivia Campbell, 15; John Atkinson, 26; Martyn Hett, 29; Eilidh MacLeod, 14; Chloe Rutherford, 17; Liam Curry, 19; Michelle Kiss, 45; Sorrell Leczkowski, 14; Nell Jones, 14; Alison Howe, 45; Lisa Lees, 47; Jane Tweddle-Taylor, 51; Angelika and Marcin Klis; Kelly Brewster, 32; Elaine McIver, 42; Megan Hurley, 15; Wendy Fawell, 50; Courtney Boyle, 19, and her 32-year-old step-father Philip Tron.
Following the attack, Ariana Grande - who left the venue unharmed - took to Twitter to express her heartbreak, saying "broken. from the bottom of my heart, i am so so sorry. i don't have words."
'Look for the helpers' – Manchester rallies round with acts of kindness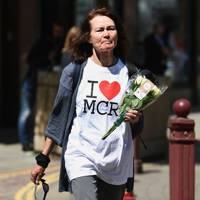 Current Affairs
'Look for the helpers' – Manchester rallies round with acts of kindness