This video of Ariana Grande fighting back tears as she gets real about 'not having her sh*t together' will make you love her even more
After a whirlwind engagement, Ariana Grande and Pete Davidson called it quits following a tough few months for Ariana, including the loss of rapper ex-boyfriend, Mac Miller.
Understandably, it's been a tough few months for the pop sensation and she's been candid about her battle with anxiety, even saying she feels guilty for how she feels.
And Ariana shared an extremely candid insight into her life as she accepted the Billboard Woman Of The Year award in New York.
Taking to the stage, she said: "This is really special. I want to say that I find it interesting that this has been one of the best years in my career and one of like the worst years in my life.
"I'm just saying that because I feel like a lot of people would look at someone in my position right now I guess - Woman of the Year, an artist that could be at her peak, reaching her you know, whatever, and think, you know, 'She's really got her s*** together, she's really on it, she has got it all'".
"I do, but as far as my personal life goes I really have no idea what the f*** I am doing. So yeah, it's been a very conflicting one.
"I just want to say if you're someone out there who has no idea what this next chapter is going to bring, you're not alone in that."
Here's the emotional video in full...
We love Ariana for speaking so openly and we're sure her fans will totally relate.
Rising above the personal life drama she discussed, Ariana recently urged her fans to be kind to Pete online but it seems that Pete has actually blocked his ex on social media so cannot even see the negative comments directed at him.
In a private Twitter message with a fan, which was screenshot and posted online, Ariana wrote: "I haven't seen any of [the bullying] because I'm blocked but I want you to know that I would never want or encourage that ever and you should know that. I care about him deeply"
According to US Weekly, Pete blocked Ari on social as he tries to 'distance himself from her narrative for his health.'
It comes after Ariana has replaced her engagement ring with a friendship ring. Taking to Instagram, she shared a photo with the friendship ring on display - and her best friends, Alexa Luria and Njomza, also have the ring. Cute.
recently spotted a post from The Zoe Report with a link to 13 tips on how to find the perfect engagement ring and noticed Ariana simply commented "Don't." Woah.
Ari and Pete have gone their separate ways and remained fairly coy about the whole situation, but Pete joked about the breakdown of their relationship during a trailer of SNL - and Ari wasn't happy.
In the teaser, he joked about proposing to musical guest Maggie Rogers right after meeting her. He asks: "Hey Maggie, I'm Pete - you wanna get married?" and after she turns him down, he says: "0 for 3." Awks.
Ariana took to Twitter to comment on the clip; in a now-deleted tweet, she wrote: "For somebody who claims to hate relevancy [you] sure love clinging to it huh. Thank [you], next."
It's not the first time he's discussed their break-up. According to , Pete told the audience, "Well, as you could tell, I don't want to be here. There's a lot going on."
He also made a joke about moving out of Ariana's apartment, asking the audience: "Does anybody have any open rooms? Looking for a roommate?"
Then he moved on to discuss getting his tattoos covered up, which comes after Ariana covered her tattoo dedicated to her former boyfriend during the filming of a Wicked special for NBC.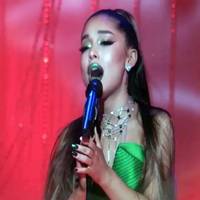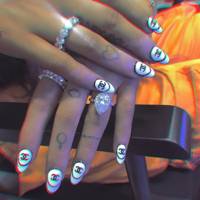 The pop sensation has Pete's name tattooed on her ring finger and conveniently covered it with a plaster, while Pete has gotten his bunny ears tattoo and covered it with a black heart.
Pete told his fans: "Um, I've been covering a bunch of tattoos, that's fun. I'm fucking 0 for 2 in the tattoo [department]. Yeah, I'm afraid to get my mom tattooed on me, that's how bad it is.
"So, obviously you know [we] broke up or whatever but when me and her first got engaged we got tattoos. And it was in a magazine like, 'Was Pete Davidson stupid?' And 93% of it said yes. So my boy, he was like, 'Don't listen to that shit man. They're literally f****** haters.' And I'm like, yeah, f*** that. I'm not stupid. And the other day we were in my kitchen and he was like, 'Yo bro. Turns out you were stupid.'"
After the news about the split broke, Ariana took to Instagram in a now-deleted post to thank her fans for their support. Ari also told her fans she's taking a break from social media but is 'trying very hard to keep going'.
She wrote: "time to say bye bye to the internet for just a lil bit. it's hard not to bump news n stuff that i'm not tryna to see rn. it's very sad and we're all tryin very hard to keep goin. love u. and thank u for bein here always.
"Can't believe I almost let my anxiety ruin this for me today! Not today Satan!'
"Not tomorrow or the next day either not no more u can suck my big green d**k finna sing my heart out and be a big walking vessel of love bye."
[ id="1052320321662046214"]
The news comes after the tragic loss of Ariana Grande's ex, Mac Miller. The world was left in shock when the 26-year-old rapper was found dead on 7th September at his San Fernando Valley home, which has understandably shaken Ari.
Ariana Grande just shut down a troll who accused her of 'milking Mac Miller's death' in the best way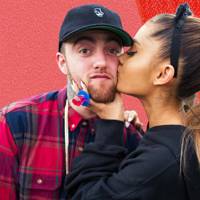 Celebrity News
Ariana Grande just shut down a troll who accused her of 'milking Mac Miller's death' in the best way
Pete recently revealed how he proposed to Ariana. The Saturday Night Live comedian told Variety magazine: "I didn't want to do something corny. We were in bed hanging, after watching a movie. I was like, 'Will you marry me?' It was really dope."
Earlier this month, Ariana revealed on Good Morning America when the couple were planning on tying the knot.
Opening up to former athlete, Michael Strahan, the singer got super emotional as she opened up, saying:
"We're gonna, like, take our time to plan it," she shared.
"We've been planning and my friends and I, my mom and everybody, have been brainstorming and sharing ideas and stuff. And it's really fun. I work so much I've never spent this much time or energy planning something personal that feeds my soul so much and my heart. I'm going to cry. I'm so excited. It's sick. It's really fun."
When asked about when the wedding would take place she replied: "It's not soon soon. It's going to be, like, next year." Oh hey, wedding of the year!
Ariana also discussed how she's very aware that her and Pete's love can be a lot for some people on social media. "We're so annoying, huh?" she told Michael, "It must be the worst [to watch]. It must be the worst!" she joked.
Michael also asked what makes SNL comedian, Pete, her soulmate, to which she said, "You just feel it, you know?"
"He just ticks every box and just gets better every day, and I'm very grateful for him. Life is beautiful." We're not crying, you're crying.
It was recently revealed that Ariana's stunning pear-shaped Tiffany and Co engagement ring cost a whopping $93,000. Oh boy, if she loses that...
Hailey Baldwin's HUGE rock might be our new favourite celebrity engagement ring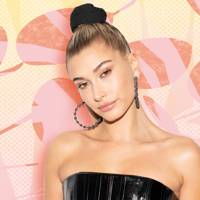 Engagement Rings
Hailey Baldwin's HUGE rock might be our new favourite celebrity engagement ring
The couple also got matching tattoos, Ariana got a tattoo on her foot of the numbers '8418', which was the badge number worn by Pete's dad, a firefighter who died in the 9/11 Twin Tower attacks.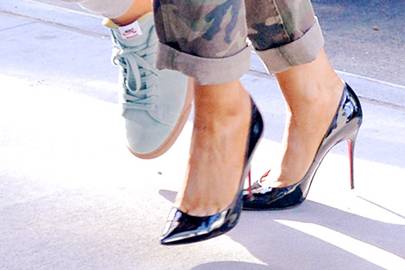 Ari's inking comes after Pete got a couple of tattoos in homage to his beau.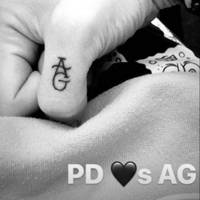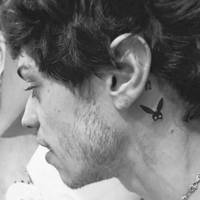 Not only does he have her iconic Dangerous Woman bunny ears behind his ear, he also has her initials, "AG," emblazoned on his hand.
We hope the couple can get things back on track.
Ariana Grande has had a dramatic haircut and looks SO different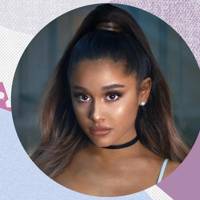 Ariana Grande
Ariana Grande has had a dramatic haircut and looks SO different