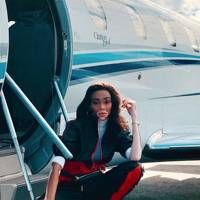 Private jet owner reveals what it's really like flying the A-listers in for awards season
With awards season in full swing, the world is patiently waiting to witness the biggest names in Tinseltown sashay down the BAFTAs, BRITs and Oscars red carpet.
But have you ever stopped to consider the lengths that the people behind the scenes go to in order to get the biggest names in Hollywood from their hotel suite to their coveted spot on the red carpet?
Indeed, it takes an army of staff who work like a well-oiled machine to ensure the stars are preened to perfection and red carpet-ready. GLAMOUR UK spoke to 365 Aviation, the private jet company responsible for flying the stars in for awards season, to find out the bizarre and brilliant anecdotes from up in the air. Here are their best tales from the clouds...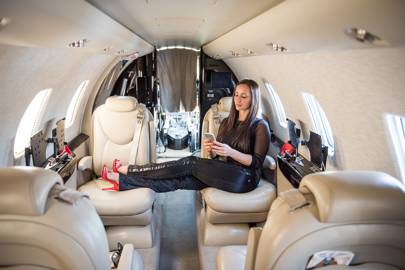 The jewels so expensive, they had to be handcuffed
The jet company were responsible for getting a leading actress to the Oscars with a lavish collection of jewellery in tow. The multi-million pound jewellery was loaned by a leading London jewellery house who sent the items to the airport by Range Rover. A security guard travelled on the private jet with the actress with the suitcase of jewels handcuffed to him for the entire flight – such was their value.
Cardboard wardrobes to transport the dresses
It's not unusual for a couture gown to cost more than the charter flight and flight attendants go to extraordinary lengths to ensure its clients' high value items arrive in as pristine a state as their clients. Cardboard wardrobes are filled with foam and mesh to protect dresses that run into hundreds of thousands of pounds and which frequently have to travel in the main cabin to ensure they are not damaged in the hold.
The dresses who need their own escort
At times, 365 Aviation has been asked by European design houses to fly dresses out to Oscar-nominated actresses in LA via private jet. The dresses are flown in specially designed airtight boxes, often with the design houses' own fitters onboard as no one else is allowed to alter or work on the dresses.
In-flight beauty therapists as a pre-requisite
Hair, makeup and in-flight beauty treatments are regular requests for private jet teams so they have built up a little black book of some of the best mobile therapists in the world who make themselves available at a moment's notice. The company has even arranged for a masseuse to accompany an actress on a 22-day media tour around the world.
Hectic turnaround times
The company once had to turn around a jet in just two hours to get an actor home from the Oscars as his wife had gone into labour. Now that's what we call a baby on board!
Logistical nightmare
Often actors are filming other movies during the Oscars, meaning they are on a very tight schedule. For this reason, the private jet company is an expert in logistics. With one actor's tight schedule, the company organised a helicopter to get him from a filming location in Battersea to Stansted and then onto an express jet to LA to get him to the Oscars on time. Phew!


У нашей фирмы нужный веб сайт на тематику Нандролон buysteroids.in.ua