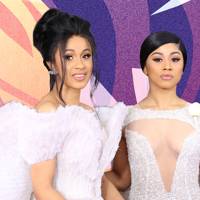 Cardi B's sister just accidentally revealed the sex of her baby
Cardi B's pregnancy announcement may have been the biggest celebrity news of this year yet - yes, Kardashian fans, hold your horses. Since the news broke this weekend that Cardi and her fiancé, fellow rapper Offset, are expecting their first child. So of course the world was eager to know, is it a boy or a girl?
If you watched Cardi's Saturday Night Live performance - where she revealed her baby bump for the first time in a skin-tight, goddess-like dress - you know that she is far along enough to know the sex of the baby.
Unfortunately, Cardi was not the one to reveal the gender. In a very honest mistake her sister, Hennessy Carolina, posted a heartfelt message to Cardi that featured a cheeky pronoun - and of course, the internet was fast to spot it.
Are you ready for it? Cardi is having a (drum roll, please) GIRL!
In the now edited post, Hennessy wrote: "hold ur baby and give her all the kisses," which has since been edited to "hold ur baby and give the baby all the kisses". Screenshots of the original message surfaced on the internet - because the people of social media always keep receipts.
Either way, you NEED to read Hennessy's full message because it will bring a tear to your eye:
Over the past few months, rumours have been flying around that rapper Cardi B, real name Belcalis Almanzar, was pregnant - but she'd firmly denied the rumours. The gossip was fuelled by her frequently opting for loose-fitting outfits, keeping her stomach hidden at all times.
Despite previously shutting down the pregnancy rumours in February with a legendary comeback (Let me fat in peace), it seems she was just waiting for the perfect time to announce her good news. During her performance on Saturday Night Live last night, she confirmed that she is indeed pregnant, and revealed her baby bump to ecstatic fans.
As she performed Be Careful, she wore a white dress which perfectly highlighted her stomach. In an announcement reminiscent of Beyoncé's VMAs reveal, the camera panned down, showing off her baby bump and prompting a huge cheer from the audience. You can watch the feelsy moment in the video below.
She also took to Twitter after the performance had aired, revelling in the success of her debut album Invasion of Privacy, which went gold on its release day due to the success of Bodak Yellow.
Her fiancé, Offset (Kiari Kendrell Cephus), also posted a sweet photo of the pair together, thanking everyone for their support.
[ id="BhS_bF5HT5E"]
It's definitely the icing on the cake for an already stellar year for Cardi B. Congrats!
Cardi B: 11 important facts to know about the rapper who had the GRAMMYs in hysterics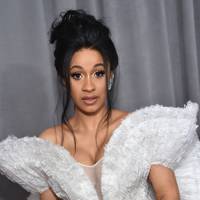 Cardi B
Cardi B: 11 important facts to know about the rapper who had the GRAMMYs in hysterics
---