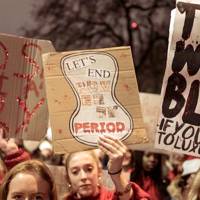 The teen who started the #FreePeriods campaign in her bedroom reveals why you *need* to get involved if you care about women's rights
During your school years, it's likely that getting your period was a little restricting, but for some teenagers it's debilitating. In the UK, 49% of girls have missed an entire day of school because of their period, whilst 1 in 10 young women (aged 14-21) have been unable to afford period products. In London alone, 80,000 young women and girls are affected by period poverty.
2018 saw significant progress for the cause in Britain, with the Scottish government becoming the first national government ever to provide free access to menstrual products in all schools, colleges and universities, whilst in Wales, the government pledged £1m to address period poverty. In England, we still have no policies in place.
That's why teen activist, Amika George, is launching a legal campaign for free menstrual products to be provided in schools, in partnership with the Red Box Project and supported by the Pink Protest.
This schoolgirl's open letter to Theresa May calling for free period products is pretty damn powerful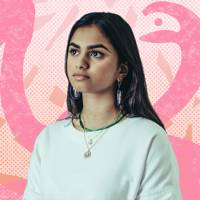 Lifestyle
This schoolgirl's open letter to Theresa May calling for free period products is pretty damn powerful
She launches the campaign with a Crowdfunding drive to raise funds for legal costs, with the requirement that £10k must be raised in 30 days for any of the pledges to be collected.
This new legal campaign follows the one year anniversary of the Free Periods protest to end period poverty, where over 2,000 people gathered outside Downing Street to call out the UK government's failure to take action against period poverty.
The campaign also launches with a film made by Emmy-award winning filmmaker, Lina Plioplyte , featuring Amika and ten schoolgirls from London.
To mark the kickass campaign, Amika reveals the importance of throwing her weight behind something so major...
"In April 2017, when I started #FreePeriods from my bedroom, after reading that girls my age or younger were missing school because of period poverty, I never thought that a year and a half on, we would still be talking about its impact.
"Despite the collective outcry at the government's failure to take any decisive action, and as austerity cuts bite deeper, increasing numbers of children are skipping school because they cannot afford menstrual products.
"Today, I am launching a new legal campaign, because it's time we eradicate period poverty altogether. In partnership with the Red Box Project, and with the support of the Pink Protest, we will be calling for the government to provide funding so that students can access free menstrual products in all school and college toilets.
"No child should be missing school because they don't know where their next pad or tampon will be coming from. It's wrong, and we need to make sure that we create a society where children can thrive at school, without being limited by a natural biological process.
"Scotland has made history by being the first country in the world to offer universal access of menstrual products in all places of education. It's time England did the same.
"The launch kicks off with a Crowdfunding drive to raise funds for the legal campaign. We are required to raise £10k in 30 days to collect any of the pledges donated. We have been working with a law firm to explore our best routes for legal action and are hopeful that we can elicit real change for every student in the UK who has a period.
"This year, we need to make sure we continue to fight for the issues we care about without waiting for Parliament to take the lead. Please support us and let's make 2019 the year where we consign period poverty to history.
"Please support our Crowdfunding drive by visiting and find out more about FreePeriods at ."