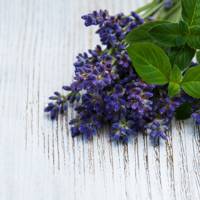 How herbs can give you glowing skin, shiny hair and ease your anxiety
Herbs have been used in women's beauty for centuries, but in a world of ready-made sheet masks, highlighters for instant skin glow and nourishing masks that magically repair your hair overnight, it's easy to forget the power of plants.
But if you're looking to go a bit more natural with your beauty routine, or utilise ingredients grown in your own garden, there are plenty of ways to make use of herbs in your routine...
Horsetail for nourished nails
A nail soak can really help to repair and hydrate your cuticles for stronger nails.
Henriette Kress, author of and says to "boil a teaspoon of dried horsetail herb in 250ml water, strain and let cool".
Once at a touchable temperature, "pour the liquid into two bowls and keep your fingertips in the bowl for 10 minutes".
Nettles for shiny hair
If your lengths are looking a little lacklustre, try rinsing them with a nettle mix.
"Boil 100ml dried nettle herb in 500ml water for 15 minutes and strain", says Henriette.
"Add the liquid to a bowl of warm water and then rinse your freshly washed hair with the mix."
To make the most of it, use another bowl to catch the mix as you rinse so you can run it over your hair multiple times.
If you have really light blonde or white hair, you may want to consider using horsetail instead as nettles may leave a slight green-ish tint.
#HairGoals: The shiniest celebrity hair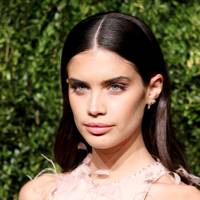 Beauty
#HairGoals: The shiniest celebrity hair
---
Lavendar for glowing skin
Most people look to lavender to aid sleep, but it also makes for a great body scrub.
"You'll need 100 ml sugar, 100ml extra virgin olive oil and 10g dried lavender flowers", says Henriette.
"Mix the ingredients and pour them into a jar to keep in the bathroom, [where you can] massage the scrub into your skin after every shower or bath".
The dreamy scent is a bonus.
Ashwagandha for anxiety
Adaptogenic herbs can be ingested to help with stress, anxiety and even energy levels.
Founder of the Glow Bar, Sasha Sabapathy, says Ashwagandha really helped her when she was suffering from anxiety.
"Ashwagandha root has typically been used in Ayurveda for centuries as a way to relax and calm the mind, encourage better sleep and uplift your mood", she says.
"It's an incredible herb and is starting to become more readily available now that people are starting to realise the wisdom of Ayurveda."
The is one of the few brands that sells (£26.50) in a powdered format so you can easily add it to a smoothie or hot drink to reap the benefits.
Simple and free acts of self-care to try if you're feeling anxious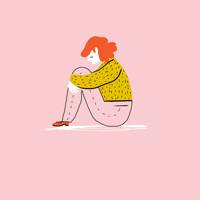 Anxiety
Simple and free acts of self-care to try if you're feeling anxious
---
Rose for a refresh
Who doesn't love the uplifting scent of fresh roses?
To make your own refreshing face wash, "Boil a handful of freshly picked rose petals in 250ml of water for 10 minutes, then strain and leave to cool", says Henriette.
You could also pour it into a spray bottle and keep in the fridge to use as a face mist.
Burdock for dry skin
Dry skin can be demanding, and sometimes the most hydrating face moisturisers just don't cut it. Enter: burdock.
"Burdock is excellent for dry skin and quite helpful for skin problems in general", says Henriette.
To truly see the effects, you need to commit to drinking a homemade tea three times a day.
"Add 200ml of boiling water to 1-2 teaspoons of burdock leaf. Let steep for 10 minutes, and add a dash of lemon juice before drinking."
The best face serums
Serum
The best face serums
---
Nix wrinkles with nettles
Nettles are a pretty magical herb. Not only can they be used for shinier hair, but they can also help to keep wrinkles at bay.
"Nettles are loaded with minerals and they help our connective tissue, which is why they'll also help with wrinkles", says Henriette.
The best way to benefit?
"Boil two teaspoons of dried nettle herb in 250 ml water for 10 minutes, then strain. Leave to cool and apply as a wash."
Practical Herbs 1 & 2 by Henriette Kress are available April 2018, published by , £19.99 each.
Thinking of turning your entire beauty routine vegan? Here are 16 products that are worth the hype: