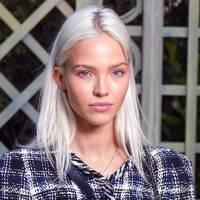 How to go white blonde without completely ruining your hair
Thinking of giving summer's coolest hair trend a go? Here's what you need to know before going platinum blonde, plus if you want some inspiration, check out every shade of blonde on these celebrities for some ideas.
Convinced? Good. Now to really gear you up for the biggest life-changing blonde of your life (dramatic? us?), GLAMOUR's has shared her white blonde journey, plus tips from her hero hair stylist...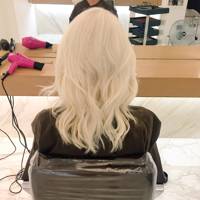 I recently read that a woman who is about to change her hair colour, is about to change her life. I know: deep. But having had the same honey-ish locks for over 15 years, I was more than ready for something different: something brighter and bolder. So, following in the footsteps of Kristen Stewart and model Coco Rocha, plus my own hair heroes Debbie Harry and Daenerys Targaryen, I decided to dive headfirst into the blonde pool with the help of sought-after hair colourist, Nicola Clarke - creative colour director at John Frieda Salon, Mayfair AND hair stylist to Kate Moss. Five hours in the salon and one itchy scalp later, my hair was transformed.
Watch Lisa's hair transformation here:
Of course, hitting the bleach bottle is often seen as the epitome of damaging your hair but it is possible to get the look with healthy results. My advice? Ask your colourist to apply Olaplex. It helps rebuild the damaged disulphide bonds broken during the chemical process. Nicola used it on my hair and it's definitely not as dehydrated as I thought it would be. Also, despite being a fun shade, it's a pretty high maintenance one so be ready for some serious upkeep.
Here, Nicola gives her top tips for going white blonde...
LOOK AHEAD
"I always tell my clients to think of this as a long-term transformation, not a short-term one. It's also worth considering any important or pre-arranged events that you have coming up. I wouldn't advise, say, a brunette to white blonde change before a wedding."
THINK ABOUT YOUR WARDROBE
"Everyone's style is individual to them but if you wear a lot of fuchsia pink and want to avoid the Barbie look, white blonde might not be the hair colour for you."
CAN ANYONE GO WHITE BLONDE?
"Yes. Obviously, it's easier if you're naturally blonde but you can still achieve white blonde if you're a brunette or red head - it just might take a few applications to get the right shade. Whilst you do need to think of the potential damage the bleach will do, I don't think going white blonde should be limited to certain hair types. In fact, I'm surprised how many people with different skin tones or hair colour can pull it off. In terms of celebs, it looks great on Jennifer Lawrence and Scarlett Johannson. Kim Kardashian is probably the complete opposite of someone who should have bright blonde hair but somehow it works."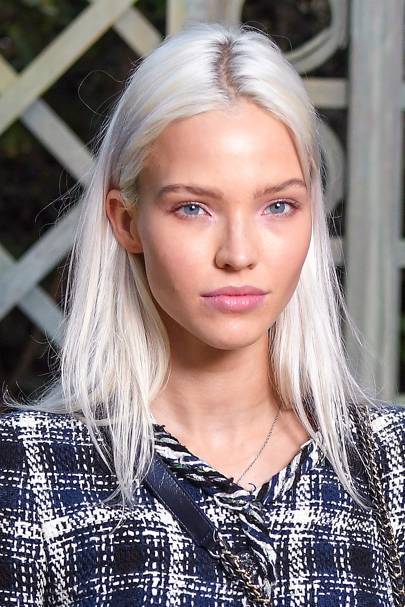 PRE-TREAT YOUR HAIR
"Do as many at-home hair treatments as possible before your appointment. The hair needs an extra coating of protective oils."
SWITCH UP YOUR MAKE-UP
"Some people change their make-up after as beached hair can make the skin appear extra pale. Take Gwen Stefani, for example. Sure she's a megastar but even in her day-to-day life, you rarely see her without make-up. Having such a bright, all-over hair colour can also show up skin imperfections so if you don't want to look washed out, try a warmer foundation base."
BEAUTY IS (SOMETIMES) PAIN
"Heads up: you're going to be sat in that chair for hours and, if you're going full-on bleached to the scalp, it will probably burn."
IT'S A BIG COMMITMENT
"White blonde is a big celeb trend right now but remember A-listers can fly the world's best colourists around the world to to maintain their colour or roots. If you want to make a statement, block colour works better than highlights but that does mean booking salon appointments every 3-4 weeks for touch ups as roots can start to show after just two weeks. It's an expensive hair move."
WHICH CUTS SUIT THE STYLE?
"Short, blunt cuts always look good but a for an edgier and more modern style, leave it slightly longer and take it to the collar bone; another current hair trend."
Check out our favourite short hairstyles here.
TRY THESE AFTER CARE PRODUCTS
"Post-bleaching, your hair would have been stripped of its goodness (pigment, protein and oils) and will probably feel weak and damaged - especially if you have very fine textured hair or light blonde tones. But you can add moisture and nourishment with intense conditioning treatments like or When I bleached my hair, I'd only have to wash it once a week - try and Also, the less heat styling you do after bleaching, the better. If you start to see a tinge of yellow, a silver shampoo such as or acts like a temporary toner to help cancel out those brassy tones."
AND IF YOU WANT TO GO BACK…
"…it's going to be a gradual process. You can try growing it out or go for a darker blonde after a year or so but trying to get a different or natural colour back into your hair when it's been stripped, will take time."
With thanks to Nicola and Kasun at John Frieda
Find out how to go platinum blonde...
Dare to go bolder? Check out these celebrities with silver grey hair.