Kylie Jenner covers up her Tyga tattoo with more ink
Kylie Jenner has made it clear that there is no going back when it comes to her relationship with on/off ex-beau, Tyga, this week as she stepped out with a brand new ankle tattoo, covering the previous 't' she had inked in honour of the rapper.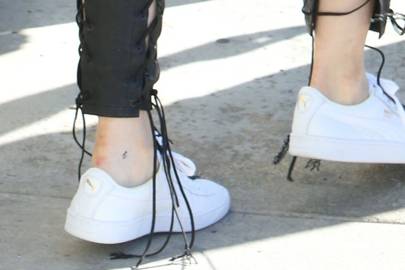 The 19-year-old beauty mogul, who has been dating Travis Scott (another US rapper) since the split, unveiled a the new "la" tattoo which pays homage to her hometown as she dined in London on Monday night.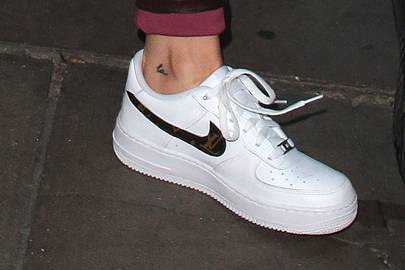 While the reality star has been hanging with Travis Scott, Tyga was busy recording a new track which sounds a lot like jab at Kylie.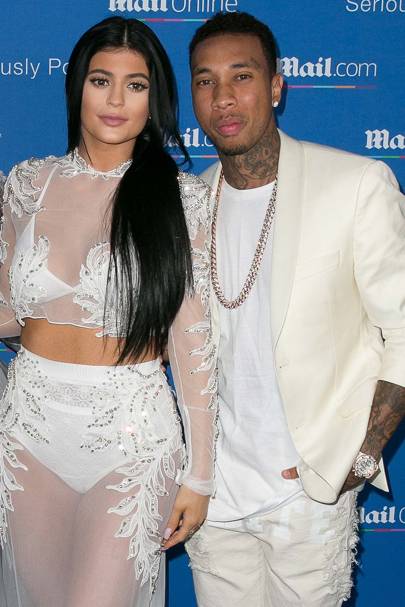 The rapper's latest release is called 'Playboy' and the lyrics go as follow: "Super freak in my passenger; She a superstar and got it bad for me; If I hang up, she call right back to me; You cut her legs off, she crawl right back to me".
The rest of the lyrics are absolutely NSFW but that's plenty enough for us to take the hint. The track was released last month and it can't help but remind us of of Kylie in his bed with the caption,"They always come back..."
Eek!
Here's a run down of their relationship...
The couple'ss last serious breakup was in September last yer, the Keeping Up With The Kardashians star was believed to have ended the romance.
Kylie, 19, had been dating the rapper, 27, on and off for the past two years, but People reported that their romance was OVER.
An insider has told People.com that there was still hope they may be able to patch things up and get back together. And they were right!
[ id="BHd2PVZhzd2"]
"They tend to take little breaks all the time and then get back together," the source said. "It's definitely possible they'll work things out again."
This news just came months after Kylie showed off her epic promise ring. Alongside the pic, Kylie wrote: "If this is my promise ring I wanna know what my engagement ring gonna look like".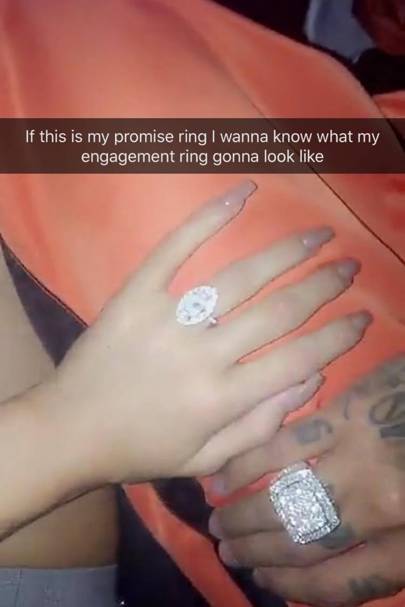 On a chat show in August 2016, Tyga was asked if he had popped the question, to which he responded "I don't know".
Oh, and who can forget the car that Tyga brought Kylie for her 18th - a white Ferrari which cost $320,000.
Also, their romance was going super strong when she starred in his music video, for Dope'd Up
For her 18th, as well as the car, Tyga Instagrammed a picture of Kylie, captioning the photo: "Happy bday to the dopest girl ever!"
[ id="6NOGPcKet-"]
When they first got together, she confessed how much "fun" she has travelling with him.
Kylie said: "Tyga's one of my best friends ever so it's so much fun to travel with him. I always like having my friends out on the road with me. He's doing some stuff out in Cannes, so it's just fun."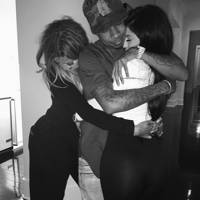 Dating rumours circulated when they were spotted in an airport together.


They denied they were in a relationship, and Tyga went on the record to say that Kylie is a "beautiful young woman" whose "maturity and mentality is different than a lot of people."

He continuted: "I'm not dating Kylie, I just want to get that out of the way. I want to be clear to everybody that I didn't leave my family to be with Kylie. That's ridiculous. Me and [Blac] Chyna, we broke up almost close to a year [ago] now, because of the decision we made, and things in our relationship that weren't going right, [so we] decided to split to raise an emotionally stable kid."

He added that the media "didn't really care about me until they figured out that I live next door to Kim [Kardashian] and Kanye [West]…But I've been friends with them before I even met Chyna. I was friends with Scott [Disick], her family for years, so me hanging out with them was nothing new. People just want to make a story out of it."

Tyga's ex is Blac Chyna who has a child with him, and with Kylie's brother Rob Kardashian.



Наш авторитетный web-сайт , он рассказывает про продвижение сайта в интернете www.progressive.com.kz