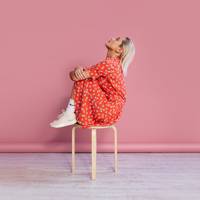 Why Nike's new Epic React Flyknit shoe for spring is so much more than a trainer
While they may be known for both their running trainers and their fashion kicks, Nike have just launched a shoe that strikes the perfect balance between the two, taking you from running in the park to wearing it on the street and everywhere in between.
Don't believe us?
We've put the new spring shoe to the test and styled it for three different occasions to see how versatile it really is...
FEELIN' SPORTY
Shock horror, Nike's newest trainer is perfect for your summer running... Sitting pretty atop the brand's new React cushioning, the upper shoe boasts a flexible, cosy 'Flyknit' material, which is both breathable and streamlined to the foot.
Outfit credits:
React Alloy trainers, £130
Motion Adapt High Support Sports Bra, £47.95
Speed 25" Running Tights, £67.50
All jewellery models own
FEELIN' FANCY
With a streamlined silhouette and delicate fabric upper, the latest Nike shoe has elegant elements that can be taken advantage of and dressed up via a feminine summer dress. Adding a sports sock to fuse the elements, the Nike React should by no means be a stranger to a bold lip. Cute, cool and comfortable? There are SO many boxes being ticked.
Outfit credits:
React Alloy trainers, £130
Cotton Cushion Crew Socks, £10.95
Silvery Crepe dress Big Apple Red, £170
All jewellery models own
FEELIN' CASUAL
Thanks to its chunky sole, the Nike React is the perfect substitution for some of the industry's heavyweight favourites in the daywear trainer category. Paired with trousers - be they cropped, flared, straight-leg or turn-ups - they provide not only the comfort of a performance shoe, but the athleisure aesthetic that the fashion industry just can't get enough of.
Outfit credits:
React Alloy trainers, £130
Sportwear Short Sleeve Top, £31.95
Cotton Cushion Crew Socks, £10.95
Colour Block Tailored pant, £289
Parrot necklace, £102
Twist Open ring, £150
Wave rings, £100
Rhombus Pinkie ring, £1,050
Cube Pendant Solid Miniature, £2,200
Textured Gold hoops, £1,300
Now *that's* a Nike drop.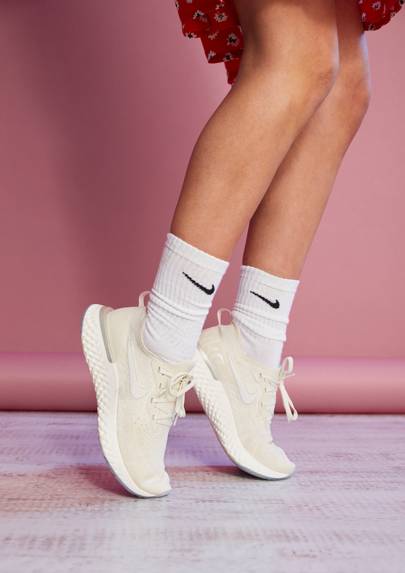 Stylist: Ashlee Hill

Photographer: Jenny Brough