Rose gold hair - inspiration and tips for dreamy pink locks
---
Grey hair, pastel, balayage and layage are all daring hair trends that have caught our attention. But the one we still can't get enough of is 'Rose Gold Hair'. And the good news is this dreamy pink shade is still on trend in 2018.
Hairdresser Larry King predicts that this year the 70s will come back around and a 'polaroid rinse' will be the popular choice – think "soft pink tones running through blonde hair [or] a dusty pink rinse to give the effect of a 70s photo".
Stars such as Emma Roberts, Ella Fanning and GIRLS star Jemima Kirke have all rocked rose gold hair and we can't wait to see which celebs try it next.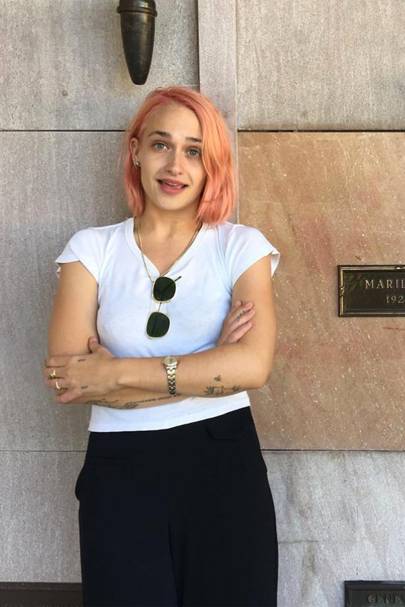 It's not just girls either, Internet sensation Cameron Dallas also sported a rose gold buzz cut...
[ id="BadOhT-nP3m"]
The pinky-metallic hue has been extremely popular on Instagram as well as in the world of the A-listers, and we reckon it'll be the perfect hue for festival season. Ain't that right, Troian?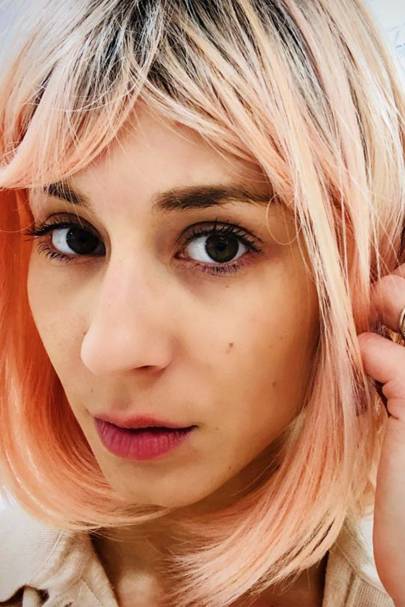 What to buy for the friend who's rose gold OB-SESSED
What to buy for the friend who's rose gold OB-SESSED

Writer Becky Fearne gave rose gold a whirl, but did she like it? Scroll down to find out...
Becky headed straight to the Cheeky salon in London's Shoreditch, as part of the Josh Wood Metal heads colour service.
Her goal: Sienna Miller circa 2013 at the British Fashion Awards. Her look was subtle, without being too pink or vibrant.
"Rose Gold Metal Heads is such a wearable colour, it doesn't really need to be for an occasion. However it would look great with a tan for Ibiza! It lasts between 5-7 washes, so the less you wash your hair the more longevity you will get from the colour." says, Melanie Jane Smith, Creative Master Colourist at Josh Wood Atelier.
Becky said: ", knew exactly what I wanted after a little consultation, and got to mixing the colour. He then applied the wash to shampooed locks and left it on for a few minutes.
"Within 10 minutes I was back at my chair having my locks dried and, guess what? I was one step closer to looking a little more like Sienna."
Check out this short video to follow the transformation!
Scream Queens actress Emma Roberts debuted 'Desert Rose' locks last year thanks to her colourist, Nikki Lee, and we have been in love ever since…
But What is Rose Gold Hair?
Rose gold is a gorgeous coppery red tone with hints of gold and pinky rose making it a switch up from winter's balayage but not summer's bright bold pink.
Here are some of our favourites from ...
We asked colour guru, Daniel Palmer Color Director at Taylor Taylor London for his top tips on going rose…
"You would think asking for a rose gold hair colour, would be straight forward, but it can get quite tricky finding the best hue to suit you so I suggest taking a picture, or even creating your own personal mood board from and to direct your colourist," says Daniel.
It's a trend that suits everyone...
"Rose gold is generally more suited to people with dark eyes, and a yellow based skin tone. Saying that there are always exceptions to the rules. An experienced colourist will adjust the hues to suit your skin tone and eyes making this a complimentary look for pretty much everyone," says Daniel.
Maintain your colour...
MAINTAIN your rose-gold ombre with
TREAT your hair with
NOURISH with
Skinted V Minted...
"There are lots of different permanent and semi permanent options available for this trend. Personally, I like to achieve this look with semi permanent colours, as I find they give a more lived in softener feel," says Daniel.
New to Colour?
Get Pink Ombre lengths with a subtle, wash out hair chalk like .
Would you dare to try Rose Gold Hair? Tweet us @GlamourMagUK