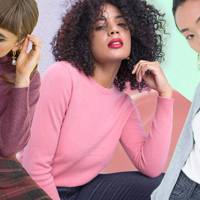 This is the only high-street store you need to visit for all your autumn knitwear
It's finally autumn, which means it's time to wave goodbye to strappy summer dresses and hello to cosy cashmere knits. Or any kind of wool, for that matter…
But you don't have the funds for such fancy fabrics, right? Thanks to Uniqlo, this season you do.
The high-street retailer known for its well-made basics has officially upped the knitwear game this season via a smorgasbord of 100% natural fabrics. We're talking 100% extra-fine merino wool, 100% lamb's wool, 100% cashmere… and it hasn't sacrificed style for substance either.
We put the new collection to the test and picked our two favourite genres of autumn cover-up, each styled for three very different occasions.
SWEATER
Look 1: The weekend sweater
A bright knit is such an easy way to make a lazy look feel more polished. Opt for this butter-soft one in a punchy, feminine hue to warm up an otherwise wintery look.
Credits:
Cashmere crew-neck sweater –
High-rise straight jeans –
Boots – Topshop
Earrings – Becca Jewellery
Belt – Reiss
Look 2: The office sweater
A high-neck sweater is the perfect workwear alternative to a blouse once cooler weather arrives. Unlike many lamb's wools, Uniqlo's is not the slightest bit scratchy. Imagine a very expensive cuddle… it feels like that. Particularly chic with an A-line skirt – try to work tonally for full autumn fever.
Credits:
Lamb's wool high-neck tunic –
Wool blended mini skirt –
Shoes – Zara
Earrings – Becca Jewellery
Tights – Wolford
Look 3: The day-date sweater
If you thought sweaters were an exclusively full-sleeved affair, your knitwear arsenal is about to experience whole new realms. Short-sleeved knits work perfectly with cropped trousers for unpredictable weather during this transitional season.
Credits:
Extra-fine merino half-sleeve sweater –
Corduroy wide cropped trousers –
Boots – Sorel
Earrings – Alighieri
Belt – & Other Stories
CARDIGAN
Look 1: The office cardi
Longline cardigans work in a similar way to the duster coat. Endlessly flattering, layer one over a smart dress for a seamless silhouette – just make sure the dress hemline is longer or you might get some funny looks from behind.
Credits:
Wool ribbed knitted coat –
Corduroy long-sleeve dress –
Boots – Topshop
Earrings – Becca Jewellery
Tights – Wolford
Look 2: The day-date cardi
A cardigan may not immediately be your go-to choice for dates, but that was before you saw this look. Right? Layer it over a roll-neck and mini skirt for a friendly-but-flirty look.
Credits:
Extra-fine merino crew-neck cardigan –
Extra fine merino ribbed turtle-neck sweater –
Corduroy front-button mini skirt –
Boots – Topshop
Necklace – Alighieri
Tights – Wolford
Look 3: The weekend cardi
If a 'jumper and jeans' is your go-to weekend look, you should experiment with cardigans and roll-necks for a more polished take. This ultra-soft cardi is the perfect layer to not only warm you up, but also give the roll-neck a more feminine vibe. Soften things up further with a pair of washed-charcoal jeans and stark white trainers.
Credits:
Cashmere crew-neck cardigan –
Extra-fine merino ribbed turtle-neck sweater –
High-rise straight jeans –
Trainers – Vans
Earrings – Becca Jewellery
Stylist: Leah Jennings
Photographer: Jenny Brough