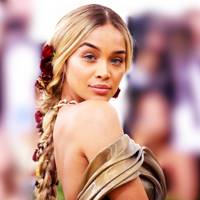 All the braid and plaited hairstyle ideas you need for the party season
Whether you've always wanted to master a fashionable fishtail braid or even just an off-duty bedhead plait, first you need to know HOW to braid in the first place. And with party season in full swing, it's an invaluable skill to learn for dance floor-proof hair.
Check out our video for easy French braids and you'll soon be nailing all the plaited hairstyles you've ever dreamed of.
Once you've got the French look down, the possibilities are endless. From on-trend halo braids (which are perfect for festival season), to intricate plaited up-dos, there are plenty of different looks for different hair types to find in our celebrity round-up below, including an invaluable tip from braiding blogger queen, Amber Fillerup.
Make sure to take a look at our favourite romantic braid hairstyle ideas!