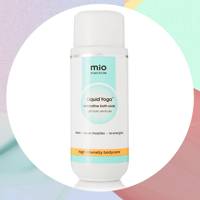 People are saying this bath oil is a miracle worker for aching muscles
Emma Watson: Actress, activist, UN ambassador and avid bath taker.
"I have a bath every single day of my life. And if I can have two or three – amazing", she once told Into The Gloss.
"Nothing terrible is going to happen in the bath, so I always find time for that."
Always adding a mix of Epsom salts and oils to her daily dip, we say be more like Emma and treat yourself to a soothing soak as soon as you get the chance.
Here's some of our favourite bath oils to inspire you, including one people are hailing a miracle worker for sore muscles... who knows you might end up writing the next big speech on gender equality.
Liquid Yoga Restorative Bath Soak, £26,
Top Notes: Spearmint, Cypress, Lavender, Mandarin and Chamomile
Perfect For: A post-workout soak. Designed to relax muscle tension, science doesn't lie. Plus, hundreds of people have reviewed it online, hailing it a miracle worker for sore, aching muscles.

Beautifying Oils in Satsuma, £9,
Top Notes: Citrus orange
Perfect For: Day-to-day baths and showers with a follow-up onto dry skin (unbelievable aroma). Excellent value.

Bath Oil in Nectarine Blossom Honey, £44,
Top Notes: Nectarine, Honey, Florals
Perfect For: A special occasion soak for a truly luxury experience – take time to pick out your favourite scent, it will stay with you for the day.

Oil Bath for the Senses, £44,
Top Notes: Ylang Ylang, Patchouli and Lavender
Perfect For: A night with me, myself and I. This oil will leave your skin velvety soft.

Rose & Pomegranate Bath Oil, £15,
Top Notes: Light Rose
Perfect For: Light, summery fragrance perfect for an early evening bath before heading out.

Tangerine Essential Oil + Base, £15,
Top Notes: Pure Tangerine
Perfect For: A few drops in your bath will deliver a rewarding experience to the senses.

Frangipani Body Oil, £37,
Top Notes: Monoi (coconut)
Perfect For: A genuinely exotic smelling oil that added to the bath that will have you dreaming of Hawaiian beaches…

Body Treatment Oil in 'Breathless', £25,
Top Notes: Wonderfully captures blood orange fragrance
Perfect For: Post bath, apply a teaspoon to warm skin and boom, you're soft as a peach and smell divine.

Rose Bath & Body Oil, £45,
Top Notes: Rose and sweet almond
Perfect For: Date night. Bathe in this before you go out and you'll feel ready to wow.

Lemon Vitamin E Body Bath Oil, £9.99,
Top Notes: Citrus Lemon
Perfect For: Gentle enough for you and the children to enjoy on a regular basis.

Moroccan Rose Otto Bath Oil, £32,
Top Notes: Gentle Rose
Perfect For: Treating yourself to a long, pampering soak.

Calm To Your Senses, £24,
Top Notes: Unusual combination of lavender and vanilla that really works – the vanilla sweetens the lavender
Perfect For: And…relax…

Revitalising Light Bath Oil, £24,
Top Notes: Peppermint, Rosemary, Rosehip and Fennel
Perfect For: A light oil, for a invigorating bath.

Revive Morning Bath and Shower Oil, £48,
Top Notes: Intensive, divine scents that linger for hours after
Perfect For: A blow the budget treat. If you opt for the selection bottles, everyday is like Christmas.

Clear Mind Bath Oil, £48,
Top Notes: Frankincense, Bergamot, Palmarosa, Chamomile
Perfect For: Designed with Liberty to specifically target mindfulness, this is to be used when you have a whole evening ahead to just soak and unwind.