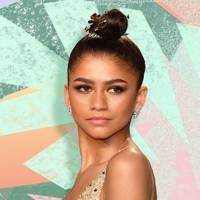 200+ hair updo ideas for every length and occasion
Try one of these many awesome hair updos for long, short and medium length hair. Be it a pretty plaited bun or a clever twisted style, there are so many gorgeous ways to wear your hair up.
A chic alternative to the ponytail, an updo is also the perfect option whether you want to dress up a look or keep it simple. Let these ladies' hairstyles inspire your next updo...
Tessa Thompson took the humble ballerina bun to new heights at the 2018 Met Gala. We love the pearl accessories that start at the tip of her triple-decker bun and continue down her spine.




Why not add a little twinkle to your slicked back top knot? Zendaya wowed us with gold leaf hair accessories at the 2018 Vanity Fair Oscar's After Party. An easy way to dress up the classic updo.

Saoirse Ronan is our newest beauty crush. The actress sported a relaxed low bun for the 90th Annual Academy Awards Nominee Luncheon. We love how the whole look was kept romantic and simple - and yet, looks super chic.

Hailee Steinfeld's easy updo is our ultimate inspiration for relaxed weekend events. It's easy to copy and a chic statement.

For the Breakthrough Awards, Mila chose a sleek updo with volume on the crown of the head - which helps elongate the face.

Elsa Hosk's 60s updo and her feline flick (oh, and that sparkly choker) are really adorable. And although this hairstyle might be hard to pull-off, Elsa absolutely nailed it.

Emma Stone's relaxed updo looks absolutely stunning! The wavy strands and the long fringe make it for a chic look; we could even picture this as a wedding hairstyle.

A slightly messy updo just seems like a perfect fit for Paris Fashion Week - ain't that right, Alexa Chung? The influencer paired her 'do with natural makeup and a rosy pout.

Jenna Dewan-Tatum absolutely stunned with this tousled low updo, which she paired with a gorgeous pink lip shade to match her dress. Triple whammy!

We're obsessed with this hair 'do, Elle Fanning! The gorgeous actress looked like a million dollars at the Miu Miu Cruise Collection show, during the Haute Couture Paris Fashion Week.

Lily James looked stunning at the premiere for new film Baby Driver. As much as we love the nude & brown eye makeup, it's the gorgeous hairstyle that caught our attention most.

Gemma Arterton looks oh-so-cute with this tidy high bun. Opt for this style if you've got crystal-clear skin and sharp cheekbones just dying to be shown off.

Woah - Jaime King just showed off the absolute most stunning ponytail/updo hybrid. She paired it with a super sleek feline flick.

Felicity Jones is the Queen of super pretty updos...

Ashley Graham's relaxed updo is giving us all the noughties feels. We're loving how easy this is to recreate.

What a beaut! Emma Stone's updo is something of our hairstyles dreams - the messy bun looked specially chic paired with her golden eye makeup and rosy pout.

Thandie Newton is the epitome of chic with her red lipstick, scraped back locks and pretty earrings.

... and this one is one of the best ever! We love the pretty accessories.

How amazing is this look from Zoe Kravitz? It's ultra modern, stylish and cool.

Gemma reigns supreme as the down-to-earth queen of the carpet with an easy, chic up-do.

Lily Collin's slicked down low-slung bun is so pretty, don't you think? Paired with her rose lips and subtle feline flicks, it's a winner.

Lily Rose Depp rocked this gorgeous tousled updo last night, along with kohl lined eyes and a glossy pink lip.

For an X Factor event, Nicole Scherzinger showed off her glossy brunette locks in this twisted intricate updo style.

Kristen Bell showed event updos don't have to be super formal. This low-key messy bun is just as chic as a sleek style.

Wow - we love Rita Ora's gorgeous twisted style. How pretty and intricate is it?!

Margot Robbie looked stunning at the Legend Of Tarzan premiere. Her makeup was ultra pretty, and her tousled updo was pure perfection...

... and looked gorgeous from the side and back, too!

The Duchess of Cambridge proves once again that she is the queen of a pretty updo.

Elle Fanning's gorgeous braid is a pretty way to keep hair out of your face.

We adore Kerry Washington's super high updo, along with this bold glossy pink lip. Perfect combo!

Kirsten Dunst wore her hair in a simple yet very chic updo on the red carpet. Her 'do showed off those pretty earrings.

Katy Perry was working retro beauty when she attended the 2016 amfAR Gala. We adore the slicked-back hairstyle and vibrant lip shade.

Karlie Kloss rocked a centre parting and a glossy bright red lip - love this look.

Jourdan Dunn rocked this pretty knotted updo at Cannes 2016. The style showed off her tattoo and oversized shimmering earrings.

Kate Moss looked incredibly elegant at Cannes Film Festival 2016. We adore her sleek updo, which showed off those gorgeous silver oversized earrings.

Nicki Minaj sported an impressive updo and even cooler feline flick on the red carpet recently. We'd like to know which eyeliner she uses...!

We like Kate Beckinsale's elegant and chic updo, including the subtle long bangs at the front.

Sienna Miller's latest 'do was incredibly chic and stylish, from the glossy long bangs...

... to the gorgeous updo style!

Emilia Clarke looked stunning at a Gala in LA. She opted for a soft pretty updo and on-trend nude lips.

We love Thandie Newton's super high style. She paired the look with gold hoops and pretty eye makeup.

Kerry Washington appeared at an event in Hollywood with a gorgeous lipstick shade and perfect updo. Her pretty floral dress was also a hit.

Riley Keough's slicked-back updo is simple but very pretty. Buns are always going to be timeless.

At the Batman V Superman European premiere, Gal Gadot sported a superb up do. Just look at it from the front...

Nice, ain't it?

We adore this pretty intricate plaited updo, which Kerry Washington wore on the red carpet.

Woah - that's one way to wear an updo, Zoe Kravitz. This sky-high style sure is impressive...

... especially when you see it from different angles, too.

Daisy Ridley showcased the perfect slicked back updo at the Oscars 2016. Would you LOOK at those cheekbones?!

Olivia Wilde opted for a beautiful braided up-do at the Oscars 2016.

Rooney Mara slicked back her hair at the Oscars 2016 to showcase a flawless complexion and deep berry lips.

Lily James debuted another great updo at the Pride and Prejudice and Zombies premiere. Her subtle ombre locks looked great in this half-up, half-down messy style.

Sure, Brie Larson looked great from the front - but wait until you see her fabulous updo...

How chic is Brie Larson's updo at the 2016 SAG Awards!? We're ob-sessed. Simple, yet effective,

Laura Haddock's gorgeously creative sleek updo has us all talking here at GLAMOUR HQ. We love the combination of the wet-look front and the cool styled ends.

Chloe Moretz rocked a pretty side bun and finished her look with glossy rose-hued lips.

Cinderella star Lily James loves to rock a pretty updo, and this lovely curled style is one of our favourites.

Daisy Ridley opted for a pretty updo for the big London premiere of Star Wars: The Force Awakens. Part topknot, part ponytail, we're calling this one a pun.

Sofia Vergara attended the Star Wars: The Force Awakens LA premiere sporting a rather Princess Leia-inspired updo...

... which was even more impressive from the back! Bravo, Sofia.

Star Wars actress Daisy Ridley is quickly becoming our beauty hero. Just check out this ultra pretty updo she sported at a press conference recently!

Olivia Palermo always looks expertly styled and utterly elegant - and this look was no exception. We love the star's modern take on a classic plait...

... and the 'do looks great from the side too!

Kylie Minogue rocked a simple textured up-do for an awards ceremony in Sydney.

Kate Winslet's favourite hair look has to be this chic tousled up-do: simple yet very effective.