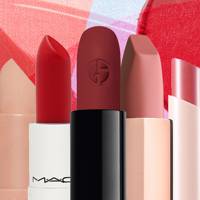 These are the best matte lipsticks and shades for autumn & winter
Finding the right matte lipstick is kind of like Tinder - looks can be deceiving.
Just because the first swipe results in an impressive show of colour, it doesn't mean they won't turn out to be a dried up dud.
Unfortunately, we can't test potential boyfriends for you, but we can test matte lipsticks. Here are the best long-lasting, non-drying and liquid formulas we've found.
Like this? Then you'll love our editor's picks of the best red lipsticks.
Rouge d'Armani Matte Lipstick in 'Nightberry', £30,
Nothing says winter is here quite like a grey knit jumper matched with a deep berry lip. This one will be our go-to for the season – think bold colour in one swipe and a magnetic bullet that satisfies at every closure.

Mattemoiselle Plush Matte Lipstick in Saw-C, £16,

The Fenty matte lipsticks are really long-wearing (can survive multiple cups of tea) and Saw-C is a show-stopping orange on all skin tones. We love the slim bullet too because it means we can carry multiple shades at a time.

Stay Matte Liquid Lip Colour in Pink Bliss, £5.99,

This is the perfect MLLB (my lips but better) shade for light and cool skin tones.

Liquid Matte in Trophy Wife, £18,

This berry liquid lipstick is an ideal autumn shade. Be careful when applying, as once it's on it won't budge.

Matte Lip Kit in Koko-K, £20,

We coudn't forget the queen of lip kits now could we? Koko-K is our favourite nude shade from the original collection.

Retro Matte Lipstick in Ruby Woo, £17.50,

Ruby Woo - possibly the most iconic of Mac's shade and the most comfortable matte formula for long-lasting wear.

Matte Revolution in Pillowtalk, £24,

Even we found it hard to get our hands on Pillowtalk - the universal nude lipstick that sold out in seconds.

Kiss Kiss Matte in Spicy Burgundy, £27.50,

This lippy packs a pigment punch. The finish is more on the satin side and the colour payoff is next level. They're quite comfortable to wear as they're not super-matte matte, and the longevity will get you through the day with minimal touch-ups.

Matte Lip Paint in Heartbreaker, £4.99,

A big win for such a small price - Barry M's lip paint lipsticks glide on so smoothly. Be sure to prep your lips with a scrub and balm to avoid the bold colour settling into cracks. For a stronger matte finish, try the liquid lip paints.

YSL Beaute Rouge Pur Couture The Mats in Wood on Fire, £26,

This pretty rosewood colour glides on easily, feels as comfortable as a balm, but gives a fully fledged suede finish. You get all the colour pay-off minus the potential dehydration of a classic bullet lippy.

Smashbox Be Legendary Lipstick in Bing Matte, £17,
A clean matte red can be both classic and ultra sexy. This shade looks cool worn with a white tee and jeans, or sultry teamed with a black dress. We love how hydrating the formula is.


A sleek slim slanted applicator ensures precision application of this dramatic deep plummy hue.

Revlon Ultra HD Matte Lipcolor in Devotion, £8.99,
This gel formula glides on so easily for a featherlight finish that dries completely matte and delivers a super flattering mauvey pink.

Ciaté Liquid Velvet in Swoon, £17,
These matte lipsticks are extremely hydrating and a great alternative to a regular stain. The velvet finish ensures long wear and an even colour. Our favourite shade? This perfect peachy nude.

NYX Soft Matte Lip Cream in London, £5.50,
These silky smooth lip lacquers dry to a matte finish, with an opaque colour and incredible longevity - a MUST for a night out. We love this fleshy nude.

Maybelline Vivid Matte Liquid in Orange Shot
If you don't like a fully matte finish, this is right up your alley – you get the colour saturation with an almost creamy, satin texture.