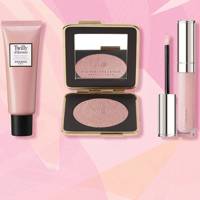 The pink products every millennial needs in their life
Blame millennials or noughties nostalgia but pink is owning 2018. You might think pink = summer, but there are plenty of chic makeup shades that work all year round, and let's be honest, sometimes our skincare choices are more about the packaging than anything. Here's our edit of the ultimate pink products.
Twilly d'Hermès' Moisturising Body Balm, £28, 💖

This beauty balm is not only the perfect addition to your bathroom shelfie, but it smells devine. We love using it layered with the Twilly d'Hermès to make the scent last all day long.

Kiss Mix, £18,

💖 Shade: Demure 💖

Kissable lips this way! A pocket-sized lip balm in a gorgeous pink hue. Non-sticky, the velvety formula glides on and delivers medium coverage.

K-i-s-s-i-n-g Lipstick, £24,

💖 Shade: Valentine 💖

We're obsessed with this shade. A vivd blush pink that's delicate enough for everyday. You can't beat a Charlotte Tilbury pout.

Highlighter, £55,

💖 Shade: Modern Mercury 💖

This product is a beauty blogger favourite and for good reason. The pink-toned illuminating power contains pearl pigments giving your skin a gorgeous warm glow.

Mini Lip Balm, £32.50,

💖 Shade: Baume de Rose Crystal 💖

A favourite in the GLAMOUR office, this balm acts like a hydration bomb on the lips without being sticky. And it has SPF 15 - bonus!

Rise + Shine Purifying Cleanser, £20, 💖
If the minimalistic packaging wasn't already enough to convince you, this South Korean skincare brand also has rave reviews. This star-performing cleanser eliminates the need to double-cleanse in your K-beauty routine because it's that good.

Cheek Gelée Blush, £33,

💖 Shade: Happy 💖

Makeup bag about to burst? This travel-sized gel blush gives your complexion a healthy boost complexion. With a weightless, sheer formula, you can layer up the colour.

Liquid Blush, £23,

💖 Shade: Orgasm 💖

If you haven't heard of NARS Orgasm, you've been living under a rock. A true beauty classic, the shade is one of the most popular blushers of all time. Although most people like the powder version, we're all for the liquid formula - super easy to blend with foundation.

Liptensity Lipstick, £16.50,

💖 Shade: Midimauve 💖

Who says pink can't be grownup? If you're not a fan of millennial pink, this sophisticated shade, with maximum coverage, looks great on all skin tones.

Les 4 Ombres Eyeshadow Palette, £44,

💖 Shade: Tissé Cambon 💖

Do you remember Sophia Bush's pink makeup at the SAG Awards? Makeup pro Patrick Ta used Chanel's Tissé Cambon to get the look. So it's truly red-carpet worthy - SOLD.

Phyto Lip Twist, £32.50,

💖 Shade: Baby 💖

Super pigmented and smooth on the lips, it's somewhere between a lipstick and a lipgloss.