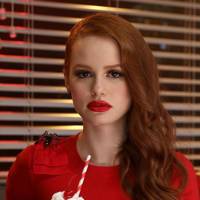 These are our all-time favourite red lipsticks (including a £5 must-try)
Gwyneth Paltrow once said: "Beauty, to me, is about being comfortable in your own skin. That, or a kickass red lipstick."
No truer word has ever been spoken.
Seasoned red lipstick wearers know only too well the power a punchy pout holds. And if you're just entering the world of bold lip colours, you can guarantee success with one of the following fail-safe shades. They're the best reds in the business when it comes to colour, comfort and a side of sass...
Like this? Then you'll love our picks of the best matte lipsticks and most flawless nude lipsticks.
Matte Velvetines, £18,

💄 In Shade: Red Velvet Matte 💄

Fan of American drama series, Riverdale? Well, this is the exact red lipstick Madelaine Petsch wears as she steals the show, frame by frame. Marvel at its intense crimson shade, velvety finish and budge-proof power.

Lip Kit, £22,

💄In Shade: Mary Jo K 💄

This sweet, sweet, cherry red was an early release of Kylie's and definitely deserves the 'best red' title in her collection. Named after her Grandmother on Kris's side, this is one red that won't budge no matter how much you eat, drink or dance.

Melted Matte Lipstick, £19,
💄 In Shade: Lady Balls 💄

Too Faced didn't call this shade 'Lady Balls' for nothing. Swipe it on and you'll immediately feel like an unstoppable boss lady. Not just because of the colour, but it won't budge or smudge either.

L'Absolu Lacquer Lipstick, £23,

💄 In Shade: Be Happy 💄

It's lightweight, it's high-shine and we can't stop wearing it. With buildable shine and colour you can create the lip look that you want (genius, right?). The best part? It doesn't dry out lips. Win win.

Hollywood Lips, £24,

💄 In Shade: Screen Siren 💄

Super pigment this way! Screen Siren should be your go-to for a femme fatale look. It may look like a lip gloss but don't be fooled, it's matte, rich in colour and totally weightless.

Matte Lipstick, £17.50,

💄 In Shade: Ruby Woo 💄

Mac has a number of gorgeous reds, from Russian Red to Lady Danger, but nothing beats the all-time favourite Ruby Woo.

Addict Lacquer Stick, £28.50,

💄 In Shade: Hollywood Red 💄

For lips that will draw a crowd, it's the ultimate weightless lipstick. With a glossy finish, but long-lasting formula this is a double winner.

Rouge Coco Lipstick, £31,

💄 In Shade: Pirate 💄

As cult as it gets. The French are known for their iconic red lips, so who better than Chanel to nail the perfect shade (and finish)?

Rouge Ecstasy, £30,

💄 In Shade: Rouge Ecstacy 💄

Intense. For those that love a classic deep red lipstick.

Lip Contour Duo, £40,

💄 In Shade: Secret Escort 💄

If you only have a few bucks saved to spend on makeup, make it this contour kit plus matching lipstick.

Lip Colour, £40,

💄 In Shade: Cherry Lush 💄

Luxurious, vibrant and eye-catching, Tom Ford's cherry-hued offering is an iconic shade.

KissKiss Lipstick, £27.50,

💄 In Shade: Love Kiss 💄

Oh Guerlain, such greatness packed in one little lipstick. For those looking a super chic red, this is it. Extra points for slick, classy packaging.

Pure Color Love Lipstick, £20,

💄 In Shade: Hot Streak 💄

Super lightweight, for those that love a glossy and natural finish. The pink-hued undertones are just a bonus (a gorgeous bonus).

Luxe Lip Colour, £27,

💄 In Shade: Retro Red 💄

Behold the Hollywood pout. Retro Red describes this shade perfectly and we can totally imagine Marilyn Monroe wearing it.

Stay All Day Liquid Lipstick, £16,

💄 In Shade: Beso 💄

If you prefer a liquid lipstick, this velvety formula is one of the best.

Velvet Rope Lipstick, £35,

💄 In Shade: Brat Pack 💄

True to it's name, the velvety finish is as Instagramable as it sounds. As for the shade? We love the orange undertones.

Rouge Volupté, £28,

💄 In Shade: Rouge Tuxedo 💄

Glossy and slick on application with a shiny finish. Movie star lips right here.

Studded Kiss Lipstick, £17,

💄 In Shade: Hellbent 💄

Go hell for hellbent, our favourite shade for a badass look. Pair it with a leather jacket and own the night.

Luxury Moisturizing Lipstick, £12.95,

💄 In Shade: Red 💄

Luscious. For those that don't have time to prep lips before applying lipstick, this has a super smooth finish and works beautifully with darker skin tones.

Paint Wash Liquid Lip Colour, £22,

💄 In Shade: Vermillian Red 💄

This red is a perfect date for a night out - it has incredible staying power.

Matte Lip Paint, £4.99,

💄 In Shade: Bombshell 💄

A budget hero that defies expectations. Super bright, this bombshell shade guarantees a gorgeous red finish.

L'Absolu Rouge, £25.50,

💄 In Shade: Idole 💄

The cult Idole shade is a must-have for summer. Lightweight, with beautiful orange and pink undertones.

Beautiful Colour Moisturising Lipstick, £22,

💄 In Shade: Red Door Red 💄

The ultimate blend of fushia and red. Medium but buildable coverage, for those that like a satin finish.

Lasting Finish Lipstick, £5.49,

💄 In Shade: Idol Red 💄

Kate Moss's iconic red pout is now at the tip of your fingers with this budget friendly (but damn good) lipstick. Our favourite shade? Idol red, of course.

Liquid Matte, £18,

💄 In Shade: Heartbreaker 💄

Huda is taking the beauty market by storm with good reason - and this liquid lipstick is one of them.