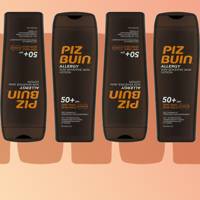 The best sun creams for top-to-toe protection
Sun cream is one of the most important items on your holiday packing checklist. Not only will it protect your skin from burning, it's one of the best anti-ageing products around, which is why it's super important to choose a sun cream that's right for your skin type to ensure you'll actually wear it.
So whether you prefer a spray, gel, cream or oil - we've tried and tested (almost) all of them to bring you the best sun creams you can get...
Or check out our list of the best face sun creams, the best SPF makeup and what SPF means.
The product: , £14.99
Best for: Mild park days when you just need that little bit of SPF15 insurance.
Bonus features: It contains DHAs so you can build up a fake tan while it protects you from sunburn. Now THAT'S what we call a bonus.

The product: , £9
Best for: Everyday holiday protection
Bonus features: The added menthol helps create a natural cooling sensation when sprayed onto skin, helping you cool down when out in the sun.

The product: , £69.50
Best for: Those willing to invest
Bonus features: This nifty stick will fit cosily in your handbag, and can be used on sensitive areas of the face (eye contours, lips, etc). It's pricey, but trustworthy.

The product: , £7
Best for: Sun-sensitive skin
Bonus features: If you're very fair and burn like a crisp at the slightest sight of the sun, this one is for you. It contains a complex called Calmanelle™ , which acts as a shield to strengthen the skin's resilience.

The product: , £6.50
Best for: All-over tanning
Bonus features: Supports skin's natural tanning while offering full UVA protection.

The product: , £6.50
Best for: Protecting yourself from sun and insects
Bonus features: No insect repellent odour. So many anti-bug sprays leave you smelling, well, not that fresh. Not this product.

The product: , £7.50
Best for: Hydration
Bonus features: If you want a side-order of hydration with your suncream, the hydrating ribbons in Hawaiian Tropic's Silk Hydration are just the ticket. It smells delicious, too.

The product: , £25
Best for: Water-sport lovers
Bonus features: You can apply this brilliant mist directly onto wet skin – so it's perfect for topping up on your SPF before, after or even during water sports.

The product: , £13.99
Best for: Low-maintenance ladies
Bonus features: Active 15 minutes after application, P2 provides broad-spectrum SPF protection for up to 10 hours, meaning there's no need to reapply. It's water resistant, too – perfect for hopping in and out of the pool.

The product: , £29
Best for: Hydration
Bonus features: Packed with extra-special ingredients like rose essential oil, melon extract and argan oil, this Decléor milk protects and hydrates skin, boosting anti-ageing action and a long-lasting tan.

The product: , £19
Best for: Sensitive Skin
Bonus features: If you're allergy-prone or have sensitive skin, this is a gentle, cooling sunscreen which can help to prevent further irritation.