This is why you'll never see Kate Middleton wearing a bright nail colour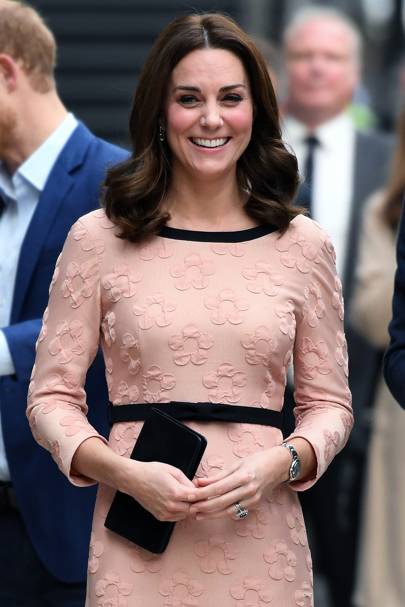 The Duchess of Cambridge has it all: she's bagged the most eligible bachelor in the kingdom, she attends star-studded galas on the regular and she instantly sells-out any item of clothing she wears. But she is doing the nail industry a massive disservice having never been photographed with her nails painted.
*Tumbleweeds in all nail salons*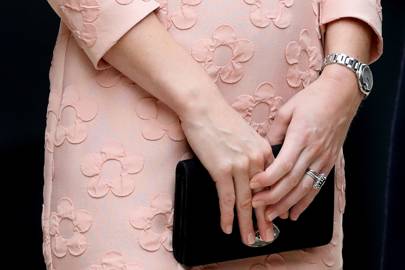 It has been reported that the Queen herself has a very strict rule regarding nail polish, stating that bright colours are "vulgar" and do not meet royal standards – ouch! Queen Elizabeth only wears the pale pink shade Ballet Slippers from Essie and has done so for over 30 years. Which explains why Kate Middleton even avoided a luxury mani on the day of her engagement announcement to Prince William. At the very least we were expecting silver shellac to accompany her whopping sapphire ring.
The rule is only instate for public appearances so Princess Charlotte will still get to grow up experimenting with beauty products and chaotically painting all over her Mum's toes like any other kid. Let's hope Meg Markle doesn't risk her royal residency with this season's hottest nail art or there'll be a slap on the wrist from Queenie.
Kate Middleton loves this coat so much, she owns it in three colourways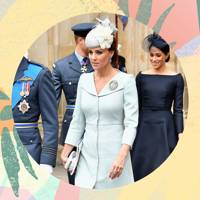 Kate Middleton
Kate Middleton loves this coat so much, she owns it in three colourways
Kate paired her luscious locks with this stunning Lock & Co hat at the traditional Easter Sunday church service at St George's Chapel.





Who's hair looks this good just after giving birth?! Kate wore her hair down with a natural curl at the ends after the birth of her third child.

The Duchess looked spring-ready as she attended a SportsAid event at the Copper Box Arena in Queen Elizabeth Olympic Park. Look at how glossy her curls are! Maybe it's the pregnancy glow doing its thang.

February 2018

When in Norway, the Duchess showed off her much shorter tresses with a faux-fur hat and darker makeup - the smoky eye was paired with a nude lip and rosy cheeks.

January 2018

Looking royal as ever in blue, Kate let her sapphire earrings steal the show with classic natural makeup and her signature curls.

December 2017

The holiday season is here and The Duchess has fully embraced her new signature look: side-parted glossy curls - which we will be copying for our Christmas parties.

November 2017

Meghan Markle might be giving The Duchess a run for her good-hair money. While Meghan's long strands are super modern, Kate's glossy curls are a timeless statement.

October 2017

Not event windy London days can stop Kate's curls from looking absolutely gorgeous. The Duchess, who's pregnant with baby number 3, is positively glowing.

August 2017

At the commemorations at the Tyne Cot Commonwealth War Graves Cemetery in Belgium, Kate was a vision in white. We love her chic updo and pretty earrings.

July 2017

Kate's recent haircut has allowed her locks to really shine with their glossy topcoat and seemingly thicker texture.

July 2017

Another day in Poland, another flawless hairstyle. We're loving Kate's shorter glossy waves.

July 2017

During her royal tour of Poland, the Duchess wowed with this chic low chignon hairstyle, which she paired with pretty pearl jewellery.

July 2017

Courtside at Wimbledon, Kate showed off her gorgeous new hair cut - this time centre parted and with subtle waves. Dreamy!

July 2017

Kate has had a serious chop (we hear it's 6 inches) and we think it's the perfect summer change up! She debuted her new look court-side at Wimbledon.

June 2017

During royal Ascot, Kate wore a stunning white ensemble, topped off with a chic headpiece...

June 2017

And a gorgeous chignon!

April 2017

Along with Prince Harry, Kate hosted a reception for runners from Team Heads Together. She opted for the au natural look, with a casual ensemble and tumbling, loose waves.

March 2017

Kate attended the 2017 Portrait Gala at the National Portrait Gallery wearing a dark green lace dress and shiny, slightly textured curls.

March 2017

On a visit to the Trocadero while in Paris, Kate wore her hair down in silky, glossy waves. We love the curled ends in this style.

February 2017

The Duchess dazzled at a reception at Buckingham Palace to mark the launch of the UK-India Year of Culture 2017. She sported a half-up, half-down hairstyle and flushed cheeks.

January 2017

Kate attended The Guild of Health Writers Conference with Heads Together recently. She wore an eye-catching shade of purple and her hair in loose, glossy waves.

December 2016
Attending a charity event alongside William and Harry, Kate opts for her classic curls with an extra layer of shine!

December 2016
Kate arrived at The Scout and Guide Hut at North Wootton looking as fresh as ever. She wore her hair in simple yet exceptionally chic curls.

December 2016
The Duchess wore Princess Diana's favourite tiara to the annual Diplomatic Reception at Buckingham Palace. She wore her hair in a stunning updo, which helped to show off the earrings and tiara.

November 2016
Ok, how stunning do Kate's side-swept locks look at the premiere for A Streetcat named Bob?!

October 2016
Kate Middleton visits The Hague for her first solo foreign trip. She opted for a smart up-do. Wait until you see it from the side...

October 2016
Fancy, hey?

October 2016
Kate Middleton stepped out to mark World Mental Health day with William and Harry.

October 2016
How pretty is the Duchess's pony!? The regal style was in honour of Kate's final day in Canada, before the family headed home.

September 2016
Kate stunned in her gorgeous green dress, which she wore with these simply glossy curls.

September 2016
For another day of the royal tour in Canada, Kate sported this half-up half-down hairstyle.

September 2016
Continuing her royal tour of Canada, Kate kept all the focus on her eyes, with this gorgeous smoky look.

September 2016
Another day on the royal tour of Canada, another gorgeous hair look.

September 2016
For a royal visit to Canada, Kate rocked an amazing up-do - it's extremely regal.

September 2016
Kate arrived in Cornwall with William looking stunning as ever. Just check out those chic bouncy curls!

August 2016
The Duchess of Cambridge visited YoungMinds charity with Prince William recently. She wore a beautiful bright red dress and a half-up, half-down hairstyle.

August 2016
Kate looked absolutely stunning as she stepped out beaming alongside William. Her gorgeous curls are incredibly enviable!

July 2016
Kate was the epitome of effortless chic at the America's Cup World Series with her hair pulled back in a loose ponytail.

July 2016
Kate enjoyed the Wimbledon Men's Final 2016 alongside Prince William in the royal box. She wore her hair loose and in pretty waves.

July 2016
After a few weeks of wearing stunning headpieces and hair accessories, Kate is back to sporting her long, curled lengths. She looked stunning while attending an awards ceremony at the Natural History Museum in London.

June 2016
Another event, another fabulous headpiece! Kate wore this cream number to day two of Royal Ascot...

... and it looks super pretty from the side!

June 2016
The Duchess attended the Secretary of State's annual Garden party at Hillsborough Castle. She wore a round cream headpiece...

...and a beautiful twisted updo.

June 2016
We can't keep up with Kate's ever-changing locks at the moment! From simple waves to half-up, half-down 'dos, she's been changing it up a lot. This updo, complete with a gorgeous red headpiece, stood out beautifully while Kate arrived for the Order of the Garter Service at Windsor Castle.

June 2016
The Duchess attended the Patron's lunch to celebrate the Queen's 90th birthday. She wore a half-up, half-down 'do and didn't let the drizzly weather get in the way of her looking great! We can't get enough of those earrings, too...

June 2016
Kate attended SportsAid's 40th Banquet with pretty tumbling curls and gorgeous subtle makeup. Her hair was looking a little shorter, and super glossy as usual!

May 2016
The Duchess was seen greeting guests at a garden party at Buckingham Palace. We adore her chic headpiece and structured updo.

May 2016
The Duchess attended the Chelsea Flower Show in a bold green ensemble and a pretty half-up, half-down 'do. We love!

May 2016
Kate was on a royal visit to 1851 Trust, and looked chic with her sleek locks and pretty earrings.

May 2016
For the Heads Together Launch at the Olympic Park, Kate sported one of her best curled blow-dries yet. Stunning.

May 2016
We should be staring at that Monica Vinader necklace, but we just can't take our eyes away from the Duchess of Cambridge's glossy locks. Picture perfect!

April 2016
Still on her royal tour of India, Kate looked happy in the sunshine while sporting some perfect curls. Princess hair indeed!

April 2016
While on a game drive in Kaziranga National Park, Kate kept it simple with flowing sleek locks. She used her sunglasses to keep the hair off of her face, looking casual yet chic.

April 2016
During her time in India, Kate sported this stunning intricate updo, which perfectly showed off her gorgeous earrings.

April 2016
Another excellent 'do for The Duchess. Kate wore this one for a Garden party celebrating the Queen's 90th birthday in New Delhi, during the Royal tour of India.

April 2016
During her tour of India with William, the Duchess sported her perfect blow-dried curls and pretty pared-down makeup.

April 2016
For another part of her tour of India, during a special gala dinner, Kate wore her hair in a stunningly chic updo, and paired the look with some vibrant blue earrings.

April 2016
Kate's simple tousled hair works perfectly with her bold and creative wardrobe in India. She manages to make even playing cricket look chic!

April 2016
The Duchess sported perfect glossy curls while at a reception ahead of her and William's tour of India and Bhutan at Kensington Palace.

March 2016
The Duchess of Cambridge wore her perfectly blow-dried subtle waves as she opened the new East Anglian Children's Hospital shop in Holt, Norfolk.

March 2016
The Duchess looked wonderful in a gingham two-piece and perfect blow-dried waves while visiting the XLP youth mentoring project in Barbican. Along with William, Kate was meeting with people who had benefitted from the programme.

March 2016
Kate was at London's St Thomas hospital to meet with mental health campaigner Jonny Benjamin who started the #FindMike campaign. She was looking very chic for the occasion in a swallow-print dress and a wavy blow-dry.

February 2016
The Duchess - or (or the Countess of Strathearn as she's known north of the border) - sported a wind-swept blow-dry as she arrived in Edinburgh to visit charity projects in Edinburgh.

February 2016
During her day as Guest Editor at the Huffington Post (in which she wrote a blog post about children's mental health), the Duchess showed off a perfect blow dry with flicked out ends.

November 2015
While wearing her favourite royal blue shade, the Duchess rocked a pretty half-up, half-down 'do, complete with some subtle ringlets.

October 2015
Another day, another beautiful updo for the Duchess. Kate's lovely curled ponytail shows off her dainty pearl earrings perfectly.

October 2015
The Duchess of Cambridge appeared at the world premiere for Spectre sporting an intricate, beautiful updo, which showed off her sparkly Robinson Pelham earrings.

October 2015
Why change something that works? Kate Middleton stuck with her fail-safe glossy blow dry with her sweeping fringe framing her face! She looked gorgeous on her debut visit to Scotland.

October 2015
The glossy blow-dry is back! Kate Middleton looked gorgeous as she arrived at a London reception for the Chinese president, Xi Jinping. The night before was all about a pretty up-do with a tiara...

October 2015
Ah, Princess hair at its very best. The Duchess of Cambridge decided to sweep her fringe to the side, and accessorised her glossy 'do with a tiara. As you do. Oh, to be a Princess!

October 2015
Kate's sweeping fringe is still dividing opinion. Some people love it, some people, not so much. The Duchess has obviously been spritzing on the shine spray because her hair looks super shiny!

September 2015
Kate stepped out sporting a brand new look... a stylish sweeping fringe, or, as beauty experts have been calling it, a 'gringe' (that's grown out fringe to you and I). What do you think of the new 'do?

July 2015
Kate Middleton looked stunning as she sat centre court to watch Andy Murray play tennis during Wimbledon 2015. It's the first public appearance since Princess Charlotte's christening, and the new mum kept with tradition, and wore her hair down, but with a bouncy blow-dry.

July 2015
For Princess Charlotte's christening, Kate Middleton opted for a regal up-do, which complimented her gorgeous earrings from the Empress collection by Mappin & Webb jewellers.

June 2015
Making her first public apperance since the birth of Princess Charlotte six weeks ago, Kate Middleton stunned at the trooping of the colour for the Queen's birthday parade. She wore her hair straight but styled the look with a titled feather hat.

March 2015
Strong hair game, K-Middy! The Duchess of Cambridge made an appearance at St. Paul's Cathedral in London to attend a Service of Commemoration for the troops who were stationed in Afghanistan. She doesn't do an up-do very often, but when she does, she does it right. The intricate hairstyle shows off her fabulous sapphire earrings to perfection.

July 2014
Arriving at the Commonwealth Games in Glasgow, the Duchess' locks were the biggest talking point - big, bouncy and in such great condition.

July 2014
On a recent trip to a London school, the Duchess went for something a little different with this half-up, half-down, swept-back 'do that had just a hint of 60s about it thanks to that volume at the roots.

April 2014
With a sleek and glossy blow-dry, Kaye yet again goes for a parred back beauty look but there's nothing low-key about those beautiful earrings!

April 2014
A sweep of light pink lipstick and a hint of mascara is all Kate needs to complete this look on the royal tour of Australia and New Zealand.

April 2014
Kate keeps her beauty look simple with a half-up hairstyle and minimal make-up on another engagement during the royal tour.

November 2013
As the party season approaches, all we really want for Christmas is the Duchess of Cambridge's locks. Pretty please.

November 2013
Windswept hair is usually a no-no. Not for Kate - her royal blow-dry looks even better with a bit of added movement.

November 2013
At the Remembrance Sunday service Kate's chocolate-brunette locks look gorgeous in soft ringlets.

July 2013
Huge, huge congratulations to the Duchess of Cambridge on the birth of her little prince. Just days after giving birth Kate's locks are just as glossy and swishy as always.

July 2013
As much as we love a shot of the royal blow-dry though, we just can't take our eyes off the new prince, giving us the royal wave.

July 2013
We're booking in with our colourist to recreate Kate's super-subtle ombre waves, pronto.