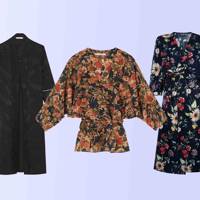 16 kimonos that are sassy as hell
Kimonos are the back on the agenda in a big way, and the sassy, lady of leisure in all of us is overjoyed. There's something gloriously decadent about the robe-like garments, which are typically tied with a sash at the waist.
The styles we're seeing in the shops come in many variations: you can make a statement in heavily-embellished, tasselled designs or go more low-key in neutral colours. We'll be teaming ours with denim shorts and a plain tee, ala . Scroll down to shop her £24.99 New Look bargain.
If you're wondering what to wear to a festival, kimonos make the ideal addition; without using the word 'boho', they're pretty damn boho (sorry). They're also perfect for sashing around a party.
Here are 15 kimonos we need, like, now...
Green satin floral print kimono, £24.99, (as seen on )

Floral silk kimono, £95,

Floral print kimono, £69.99,

Black kimono, £196,

Blue silk kimono, £95,

Floral print kimono, £27.99,

Striped kimono, £330,

Satin kimono, £17.99,

Fringed kimono, £79.99,

Grey kimono, £441,

Printed silk kimono, £343,

Kimono blouse, £69,

Robe, £495,

Printed kimono, £250,

Monochrome kimono, £45,

Polka dot kimono, £280,