This is the most popular mascara on Pinterest right now
Finding the perfect mascara can be like trying to find a bobby pin when you need one the most - near damn impossible.

And furthermore, waterproof mascara is a massive love or loathe product, as scrubbing it off after wear can be a huge chore and often ends in you just ripping your eyelashes out because apparently, that's easier.

However, waterproof mascara super fans have been all over Pinterest this summer, searching for long-lasting, sweat-proof mascara that goes by the name of Lancôme's Monsieur Big Waterproof Mascara - and Pinterest say saves for the product have spiked over 316 percent since April. If we can cry our way through dog videos without our makeup budging, then we're already sold.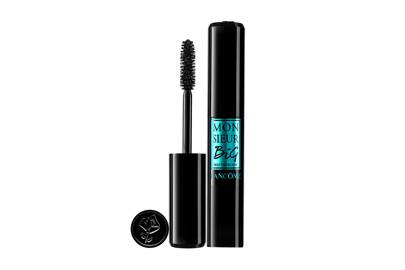 This might come as a shock, but not for fans of the original version of the mascara, which is a best-seller for the brand. The formulas for both the waterproof and original give you mega volume without clumping (AKA spider lashes) and will even stay put through all of the sweat this heatwave is bringing.

However, if you want the full benefits of this mascara, make sure you've got an oil-based cleanser to hand for when it's time to take it off, or you'll find yourself in a sticky predicament.

Both mascaras retail at £21 which is pretty standard for a high-end product (you also can't put a price on fluttery lashes), and if you were having any doubts about the quality - the figures speak for themselves.

Here are some of our all-time fave mascaras...

If you want the effect of fake lashes without faffing around with glue, this Dior mascara creates mega long lashes made for fluttering.


This water-resistant, flake-free mascara glides on easily and instantly defines even the shortest of lashes. It's also packed with vitamin E to keep them moisturised.


A gentler option for anyone with really sensitive eyes (or s), this fragrance-free, hypoallergenic mascara gives great lashes without any discomfort. The slim brush also thoroughly coats every lash.

Kevyn Aucoin's famed The Volume Mascara has gone unnoticed by most, but judging by the reviews, it may be worth an investment. Due to the advanced technology used in formulating the product, according to its description, it has the ability to encourage lash-building fibres to thicken, separate and lengthen your lashes. Oh, and it has 800 glowing reviews from beauty buffs who say they simply cannot live without it.

Climax Mascara, £21,
In need of some lash satisfaction? This newbie from NARS gives crazy good volume, but with zero clumps, even from the first pump. Matching Better Than Sex in quality and in cheeky name, it's fast becoming a favourite.

They're Real mascara, £19.50,
An absolute favourite since its 2011 launch, Benefit's They're Real really delivers. The bouncy brush makes for easy and precise application, while the blacker-than-blacker formula keeps lashes looking thick and dramatic all day long. It really will have people asking if your lashes are real.

Better than sex mascara, £19,
While we can't promise that this mascara is actually better than sex, as far as mascaras go, it's pretty damn good. Two coats of the stuff make you look like you're wearing false lashes - super long and dark ones, at that. And if you flutter them at anyone, you're guaranteed to set hearts racing.

Lash Slick, £14,
Glossier's mascara is unlike any other on the market. Instead of boasting that it'll boost your lashes to ridiculous new heights, it's the more understated 'natural lash' giver. Your 'I just want something but nothing obvious' every day, kinda pal. Read our review of Lash Slick to see what we're talking about.

Double Team Special Effect Coloured Mascara, £19.50,
If previous experiences with coloured mascaras have left you disappointed, wait until you try this loud and proud lash booster. It has a bold cream colour on one side and the same shade, but with a metallic finish, on the other. Used alone or together, they completely coat the lashes. So even if yours are black as night, they'll be pink, purple, green or blue with just one coat.

, £26, YSL

If clumpy mascaras are your pet hate, you'll love Baby Doll. The rubber wand is the king of separation and length. Wiggle it through for sky-high lashes that definitely won't stick together.

£5.99 Maybelline
Possibly the best purse-friendly mascara on the market, this highly pigmented formula is ideal for those who like their lashes black and dramatic. Think thick and luscious rather than light and feathery.

Sumptuous Extreme Lash Multiplying Volume Mascara, £25.50,

Multiplying and magnifying.

Velvet Noir Major Volume Mascara, £22,

Not too wet, not too dry, Velvet Noir is a fail-safe classic.

HUGE Extreme Lash Mascara, £18,
What better way to describe someone's lashes than as huge?! Stila took this concept and ran with it when they created their cult mascara, which lengthens, adds volume, and gives your lashes extra oomph.

So Curl Mascara, £43,
Sisley's new mascara really does live up to it's name, "So Curl". Working to fan out your lashes, with its arching wand, you can get right into the corner of your eyes so you don't miss a single one. Use with a eyelash curler for an extra show-stopping result.

Extended Play Gigablack Lash, £16.50,
Mac's mascaras are the stuff of dreams, and this is one of our all-time favourites. Gripping to the lashes with ease, the thin wand provides layers of jet-black product which lengthens and adds volume.

Faux Cils Mascara, £36,
With its large wand and gorgeously thick formula, this mascara is great for those who think volume is key.

, £19, Clinique
We love the adorable name of this mascara nearly as much as the product inside. Clinique expanded its "chubby range" and added this amazing mascara to its family of chubby lip and eye crayons this year, and we are totally on board.


Loving Charlotte Tilbury's makeup line as much as we do meant that we were not at all surprised that the makeup artist's mascara, full fat lashes, was as impressive as it was. This is a great all-rounder and keeps lashes looking fresh and bold all day (and night) long.

, £24.50, Bobbi Brown
This blacker-than-black Bobbi special has been created especially for wearing with smoky eye make-up. Curl your lashes before applying – this formula really holds the lashes in place while adding colour right to the tips.

, £25, Lancome
Lancome is known for its brilliant mascaras, and this classic formula is absolutely no exception. The cone-shaped brush allows the perfect application, and the formula will result in perfectly volumised lashes.

, £25.50, Estee Lauder
Estee Lauder is another brand known for its impressive mascaras. The Sumptuous extreme formula ensures zero clumps and cleanly separated lashes... it seriously delivers.

, £9.99, Max Factor
From waterproof to extra black, there are so many options of this mascara it's no wonder this is a cult product from Max Factor. Ideal for precise application and dramatically long lashes.

L'Oreal Paris Volume Million Lashes Feline Mascara, £10.99
This curved brush delivers perfectly fanned lashes. True to its name, it's our favourite to complete a cat-eye look, just use the brush to extend the lashes of the outer corner of your eyes.

, £28, Chanel
Of course this blogger favourite would make the list. Ideal for super long and voluminous lashes without clumps.