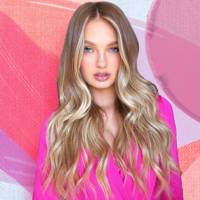 The 'mallen streak' is the hair condition-turned-highlighting-trend we'll all be wearing this summer
Anyone else sick of going into the hair salon and asking for the same old balayage?
Don't get us wrong, we love the iconic highlighting technique, but if you're looking to shake things up a little this summer (without going as far as rose gold or rainbow hair), the 'mallen streak' could satisfy your sunkissed hair cravings.
The new highlighting trend has been inspired by people with a condition called poliosis and is all about celebrating individuality.
Sam Burnett, Owner & Creative Director of , gives us the low down...
What is a mallen streak?
"It is when melanin (pigment) is not produced in a cluster of the hair, and therefore appears as a white or lighter streak," says Sam. "This can also be found in eyebrows, eyelashes and facial hair."
From hair condition to highlighting trend
Those with natural mallen streaks have a condition called poliosis, which while harmless in itself, can be a signal of other health disorders (such as thyroid disorders or inflammation conditions).
Mallen streaks can be dyed over if desired, but lately many are choosing to keep the look or even enhance it further with highlighting.
"We've seen a celebration of individuality in fashion of late, with models like Winnie Harlow not only celebrated for her modelling talent but also for her individual look, which in Winnie's case is caused by the skin condition vitiligo", says Sam.
"I feel this has started to also impact people in terms of the individuality of their hair. Instead of people covering up something like a mallen streak to conform with trends of old, people feel they can be braver and show off their individuality, and in turn, empower people to embrace what they have been gifted with."
How people are wearing the mallen streak
Natural mallen streaks can appear anywhere in the hair, and the same unique placement is now being produced in salon for those who want a bespoke look.
"It's a similar concept to highlighting, but instead of a small localised area it's a bigger section of hair", says Sam. "It will also be toned similar to a highlight but this toner will help to remove and mask any unwanted pigment leaving the hair white similar to a mallen streak."
We've so far spotted the colour trend in pairs (with two streaks framing either side of the face), a solo side-fringe streak, and even the full-on Cruella De Vil half 'n' half.
Whether it's God-given or bleached, we love that this unique hair condition is being celebrated by all.
Want to see more hair trends for 2019? Look no further...
This triple threat bun is a great updo option for those with short to medium hair who struggle to secure all their layers in the one top knot. This way, the stragglers are secured at the nape of the neck in a bun of their own. We love how combined the style with our love for hair clips to create this masterpiece.

A year ago, the request for a low ponytail and curtain fringe would have been met with a raised eyebrow. Today, we can't imagine a better combo. Just take a look at Camilla Cabello at this year's Grammy Awards.

Wet-look hair is back, but this time it's restricted to the roots and offset with soft, tousled waves. To encourage texture, introduce a salt spray through the lengths and scrunch.

If you thought choosing to chop means compromising on hair creativity, think again. Showcasing clips, texture, volume and a slick centre parting, Lucy Boynton didn't hold back at this year's BAFTAs, and her originality paid off.

Nathan Telford, Senior Stylist at Hare & Bone, says Dua Lipa's bob will be THE haircut of the season. Short hair will still be very much 'in' for 2019, particularly during the colder months.

Low-key, effortless and just-so-cool, the 'shag haircut' is the chop du jour. Chloë Grace Moretz is leading the trend and all it requires is a quick trim and a volume-boosting, thickening and beach wave-building, texture spray.

If you only buy one item for the upcoming season, make it a bow. It can be bold, neutral, oversized or mini - whatever it may be, just make sure you've got one to hand - and in hair. Just. So. Pretty.

Tempted to experiment with a fringe but not sure how to pull it off without resembling your mum in the 80s? We feel ya. That's why we're loving this fresh new take on the classic fringe: the baby fringe. Tempted to grab the scissors?

Oversized braids

We're almost at the end of fashion month, and it's fair to say that this season hair was kept simple on the catwalks - we've seen a lot of side partings, tousled waves and low ponys. But at the Simone Rocha show oversized braids took centre stage, tied with a black velvet ribbon, the romantic 'do is perfect for the colder months.

Statement middle parts

Changing your part can change your life (well, your hair look at least). This year it's all about splitting it straight down the middle. The more dramatic, the better.
Read our guide to choosing your parting based on your face shape

Straight up luxe

We're going back to 2001 when ghd first launched and the only way to wear your hair was super straight.
Need a new tool to do the job? Here are our list of the best hair straighteners to suit every budget.

Ballerina buns

Ballerina buns are back, only this time we're keeping them smaller (RIP donuts), sweeter and slicked back. Add a braid to your lengths before twisting into a bun for a little something extra.
Love a good 'updo? Check out our favourite hair updos of the season

Wet-look waves

Finally, a look that won't be ruined in the rain! But it does take some talent to perfect – start by curling your hair in different directions, then run a generous amount of treatment oil through your lengths and finish with a soft wax for hold and shine. Try £9.99 John Frieda with £4.39 V05 Andrew José for SALON SCIENCE® haircare predicts the wet look will making many red carpet appearances in 2018.

Soft fringes and undone layers

Is it just us or did all the Victoria's Secret Angels immediately head to the hairdresser after Tokyo to have a fringe cut? We're looking at you Taylor Hill and Romee Strijd... but we all know Vanessa Moody (pictured) got there first.
Need more fringe-spo? Take a scroll through fringe hairstyles as seen on our favourite celebrities.

Choppy punk fringes

A little more edgy and a little less hair in your eyes. Both Bella Hadid and Emily Ratajkowski rocked faux versions last year, but the truly badass will make it a permanent change.

Glossiness equals greatness

Want your hair to be as blinding as your highlighter? Amal Clooney and Kate Middleton have been giving us glossy blow wave envy for years, and it ain't going to stop any time soon.
Here's how to get your shiniest hair yet.

But undone is equally fun

Lazy girls, we got you. Matte, textured, "I don't give a shit" hair is the look we'll all be spending 20 minutes trying to make it look like it took us only two to whip up. Think bed hair in a bun – simple!
Check out these effortless top knots for more inspiration.

Bringing back the bowl cut

If Zendaya can do it, you can do it. Despite what you might think, a bowl cut can been adapted to suit any hair type and face shape. "It can be classy or edgy, it can be androgynous or ultra-feminine – it's all about choice." says Melissa Timperly, owner of Melissa Timperely Salon in Manchester.
After shaving her head last year, Cara Delevingne will be one to watch for this trend.

Embellish a little

Add a little glitz and glamour to your 'do with hair jewellery, perfect for pixie cuts. Pop some bling in your braids, sparkly studs in your hair updo or simply slide in a headband for easy elegance.
Here how the A-list wear hair accessories.

Beach waves, always

Have your sea salt spray and curling wands at the ready because beach wave hair isn't going anywhere. You don't need to live by the sea to look like a bronzed beach goddess, just add some fake tan and you're good to go.

Cool coppers

We adore red hair, whether it's bright and fiery or a muted strawberry blonde. And this year, Charlotte McKenna predicts we'll all be adding a little warmth into our hair colour, "Most will abandon granny chic in favour of warmer pallets. 2018 will see more and more copper tones, from brunettes and golden copper balayage to full on vivid coppers."
Ready to go red? Here are our favourite red hair colours to inspire you...

Go for gold

Blondes in particular will be steering away from silvery platinum tones and going back to their golden roots.
Keep it classy, not brassy by popping one of these blonde toning shampoos in your shower.

Crimped and primped

Crimped hair has been biding its time in the style sidelines, but we're ready to welcome it back with open arms. Those with thin hair will find it particularly handy for creating volume and the illusion of thicker hair. Andrew José recommends prepping with £15 Salon Science to hair before styling for extra bounce.

Touch me texture

A little texture here, a little kink here and a freshly washed finish that's hard to fake. Those who are lucky will be able to wash and wear, but for the rest of us: blow-dry straight, but leave your lengths slightly damp. Twist and pin into place while you finish getting ready, and then release just as you walk out the door.
Check out our list of the best texturising sprays to nail the perfect tousle.

80s perm

Curls, curls, curls. Big like the 80s, but tighter tendrils and more frizz control thanks to today's smoothing products.
We absolutely love curly hairstyles here at GLAMOUR HQ but know the frizz can be a struggle. Try taming your strands with these shampoos for curly hair

New wave

Not straight and not quite curly, but something in between. This new wave isn't overly styled, but isn't messy either. Kaia Gerber is leading the pack with this one.

70s vibe

Get your groove back with by chanelling your inner hippy. "70s hair is going to be a huge trend for this year. The loose, bouncy curls with dishevelled edges that made the decade so memorable, have now returned and are guaranteed to be seen everywhere." says Andrew José.
Here are the best curling wands for nailing that tousled wave.

Sleek low ponytails

The perfect second or third day hairdo, channel J-Lo's effortless ombre hair. Use your natural oils to sleekly comb back your strands and tie tightly at the nape of your neck. Smooth your ends with a serum for an extra glossy finish.
Need some new products in your hair wardrobe? Here are 10 of our favourite styling heroes.

High retro ponytails

Sleek in the front and volume in the back. The higher and more voluminous you can make your ponytail for this look, the better. It's an ideal style for getting extra wear from your curls or blow-dry.

Rose gold is here to stay

The hair hue we all fell in love with in 2017 is still making our hearts race. And because we're also 70s obsessed, super hair stylist Larry King predicts pinks and rose gold colours will be appearing more as a muted wash in 2018 – reminiscent of an old polaroid photo. Glamour tried the
rose gold hair trend and the results were amazing.

Natural curls

More and more curly haired queens are moving away from weaves and relaxers to embrace their natural curls. Whether yours are big and bouncy, frizzy or kinky – they're all beautiful!

Charcoal

Silver and light grey hair have been huge hits on Instagram in the past, but Katie Williams, Senior Stylist at predicts we'll darkening this shade to more of a charcoal in 2018. "By taking the grey deeper, the hair will look more glossy, nourished and healthy. Moving on from light grey and silver balayage, charcoal grey is a soft transition and at the same time, really striking. This trend is perfect if you've spent hours in the salon to achieve lightened hair but want something different for the New Year."