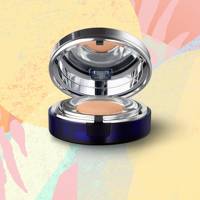 The latest beauty launches you need to know about this week
From fabulous new fragrances to shimmery highlighters, and Fenty's new Body Lava, there's a lot to look forward to in the world of beauty.
Here's your insider look at the latest launches so you can plan your paydays accordingly...
Instant Hero Illuminating Wash Off Tanning Gel, £22,
Launching: Out now!

Unexpected sunny spell and no time to fake tan? Don't worry, trusted tanning brand Tan Luxe have launched this quick-drying, no-commitment formula to effortlessly apply a sun-kissed glow in an instant.

Skin Caviar Essence-In-Foundation, £148,
Launching: Out now at Harrods, nationwide from 8th May
This cutting-edge foundation has been infused with Caviar Water and soft-focused pigments to mask imperfections while restoring skin's natural energy and luminosity.

Hydra Beauty Mask, £43,
Launching: Out now!
This multi-tasking marvel contains Blue Ginger to gently exfoliate and Camellia to moisturise, while enveloping skin in a cocoon of shea and cocoa butters. Mmm, dreamy.

Beach Me Wave Defining Gel Mist, £5.45,
Launching: Out now!
This beach hair in a bottle will bring instant summer vibes. The gel mist adds texture and definition, while the Seaweed Extract nourishes hair and stops it from drying out. Oh, and it contains a UV filter to protect from sun damage.

Lost In The City Eau de Parfum, £95,
Launching: Available from May
Every spritz of this must-have summery scent is like an urban escape to a herb-lined rooftop garden. Absolute bliss.

Limited Edition Gold Bar Highlighting Palette, £34,
Launching: 2nd May 2018 on Beauty Bay, and 2nd June at Selfridges, Harvey Nichols, Arnotts, Urban Retreat, and Cult Beauty.

Every dewy-skin lover knows all about Cover FX's Enhancer Drops; they're liquid highlighter royalty. So, you can imagine our excitement over the news the brand is now launching a highlighter palette, with three gorgeous and multidimensional shades. Drooooool.

, £45, Fenty Beauty
Launching: Out now!
A big fan of the surprise launch, RiRi only made us wait ten days from her Instagram tease to the worldwide release of Fenty's Body Lava. And girl, it's as good as it looks. Read our Body Lava review here.

Professionnel Série Expert Solar Sublime, L'Oréal
Launching: July
With summer around the corner, we're sure you're up with the latest sun protection for your skin... but what about your hair? L'Oréal's new hair spritz is set to act as a shield against UV, protecting it from colour-fade, dryness and types damage you didn't even know existed.

Couture Palette Collector Make The City Your Playground, £44, YSL
Launching: 30th May
YSL's summer collection is absolutely smokin'. The star of the range is the new eyeshadow palette, which features stunning shades of baby blue, turqouise and soft greys. The concrete-look packaging is also trés chic.

Infusion de Mandarine, £102.50, Prada
Launching: 23rd July
Speaking of summer, a zesty citrus scent is a necessary accompaniment for all sun-frolicking activities. Prada's soon-to-be released fragrance features an energising mix of orange, mandarin and neroli. It packs a punch.

Body Oil, £35, Neom Organics
Launching: 1st May
Neom is known for producing products with amazing scents, usually to encourage sleep (their pillow mist is a GLAMOUR office favourite) and now their new-and-improved body oils will soon be available in four different fragrances and formulas. Real Luxury to de-stress, Daily Superskin to lift your mood, Energy Burst to energise and, of course, Perfect Night's Sleep to send your off to slumber land.

Blu Mediterraneo Chinotto di Liguria Fragrance, £66 for 75mL, Acqua di Parma
Launching: Beginning of May
If you can't book a flight to the Mediterranean, you might as well smell like a holiday. When spritzed, this fruity-floral blue bottle features mandarin as a top note, jasmine and geranium at the heart, with base notes of musk and patchouli. Bellissimo!

The Prebiotic Emulsion™ £280 Orveda
Launching: March online, May in Harvey Nichols
Oh lordy, this new launch from Orveda is a potent mix of skin care actives alright. Not only is it set to be a hydration, wrinkle-reducing superstar, but it's also 100 percent vegan.