The very best new perfumes to douse yourself in right now
Diamonds filled with fruit! Stilettos stuffed with tonka beans! English fields of flapjacks!
No, we're not writing the world's weirdest shopping list, we're talking about the most talked about new perfume launches.
From spicy and saucy to floral and fresh, there's something for everyone, including the very first fragrance from our fave beauty blogger: Huda Kattan.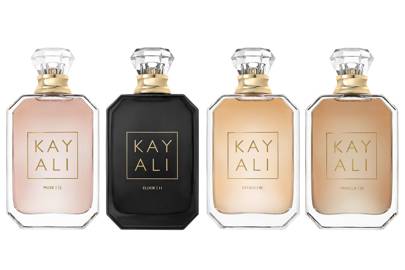 Huda recently told GLAMOUR: "It's something we've (her and sister Mona) been working on for over 7 years. The new fragrance isn't actually Huda Beauty – it is the first of many sub-brands that will exist under the Huda Beauty umbrella – so there is definitely a lot of change happening!"
The 'sub-brand' is called Kayali - which translates from Arabic to 'my imagination'. The inspiration behind the collection is said to be the rich heritage, sophistication and colourful culture of the Middle East. Our noses are READY.
Scroll down to see all the other major perfumes we're sniffing right now...
Looking for something specific? Check out our guide to the best wedding perfumes, unisex fragrances, citrus perfumes and floral fragrances.
Jo Malone London Bronze Wood & Leather Cologne Intense

£120 for 100ml from
Jo Malone has another hit on their hands with this sultry scent perfect for the cooler months. It's sexy, smoky, warm, fresh and mysterious all at once. Rich with precious ingredients, Cologne Intense fragrances are inspired by ritual and are crafted to ignite the senses with their opulent, sensual scents and this guy is no different.

AllSaints Sunset Riot Eau de Parfum

£49 for 100ml from
AllSaints just made their first foray into the fragrance world, release three distinctive unisex scents. Our favourite? Sunset Riot – an addictive mix of pink pepper, orange flower and cedarwood.

Enduring Glow by Jennifer Lopez

£30 for 50ml from
That's right people, JLo's nostalgic 90s fragrance is making a comeback just in time for Christmas. Her new juice is a fresher take on the OG 'Glow' with opening notes of bergamot, pear and lychee. The signature bottle has also had a makeover, with a metallic gold finish.

Chanel N°5 EDP Red Edition

£130 for 100ml from
Red hot and ready for Christmas! For the first time in the history of Chanel, the iconic No.5 fragrance (both EDP and EDT) will be available in a limited-edition red bottle. Name a dreamier dresser addition, we'll wait.

Burberry Her Eau de Parfum

£96 for 100ml from
The new and first-ever gourmand fragrance from Burberry brings together the best of style and scent. Housed in a clear glass bottle, the pinky-peach juice inside is bursting with red berry notes and a white woody accord.

Ralph Lauren Woman

£80.10 for 100ml from
Want to feel like you're dripping with gold? This scent will quench your sophisticated thirst. A mix of bold florals and rich woods, it's a 'here I am' heady mix. The hip flask-esque cap adds an extra touch of old school glam.

Kilian My Kind Of Love Collection

£110 for 100ml from

'I don't need a prince by my side to be a princess', 'Kissing Burns 6.4 Calories A Minute. Wanna Workout?', 'Bad Boys Are No Good But Good Boys Are No Fun' and finally, 'Let's Settle This Argument Like Adults, In The Bedroom, Naked' - these are the four new fragrances from Kilian and they smell just as cheeky as the names.

Jo Malone London Honeysuckle & Davana

£90 for 100ml from

The combination of honeysuckle and an aromatic herb might seem *slightly* off-beat, but given Jo Malone London's reputation, we think this might just be a winner. Honeysuckle can be super difficult to replicate so we can't wait to see how the new perfume turns out - and we've got high hopes given that everybody has at least one Jo Malone fragrance they swear by. Think freshness with rose and the aromatic, fruity twist of davana, teamed with wood and moss and warmed by sunshine. Mmm!

Elie Saab Girl of Now Shine

£58 for 100ml from

If you want a scent that will turn heads on a night out, this is it. Incredibly feminine with scent of oh-so-addictive Ormond flower, surrounded by notes of orange blossom and almond, its a modern show-stopper.

Goutal Bois d'Hadrien

£132 for 100 ml at

The brand formerly known as Annick Goutal, now run by her daughter Camille, has taken a new, fresher version of Eau d'Hadrien with this scent. Think Italian air, but inland rather than coastal: citrus, pine and wood heavy. Good on boys too, it also comes in a more 'manly' bottle.

Jo Loves Orange Butterflies

£70 for 50 ml at

There aren't many places we'd rather spend our summers than the South of France, and Jo Malone's new fragrance is like waking up on a hot morning in Valbonne - bottled. The scent contains orange blossom, petitgrain, mandarin and neroli for that permanent vacay feeling.

Jo Malone London Jasmine Sambac & Marigold Cologne Intense

£75 for 50 ml from

Smells like sunrise in the Indian countryside. Or, as we imagine that would smell anyway. Marigolds - not often seen in fragrance - add a vibrancy and amber warms things up.

Byredo Bibliotheque EDP

£95 for 50 ml from

You might be thinking "this isn't new, duh" and you'd sort of be right. The famous scent started as a candle, and then hit the shelves as a limited edition perfume last year. But now, people, it's permanent. Happy days.

Cartier La Panthere EDT

£73 for 50 ml from .

A gentle fragrance, especially for Cartier who are usually pretty robust. The gardenia keeps it super girly but not sickly sweet. If you haven't found your Cartier fragrance, this might be the one.