More details of Prince Harry and Meghan Markle's wedding have been released & we're already excited
---
Prince Harry and Meghan Markle are set to marry at St George's Chapel at Windsor Castle on May 19 2018 in the year's most talked-about nuptials.
And if, like us, you're eagerly awaiting every last detail of the upcoming event, we've just heard a couple snippets of intel.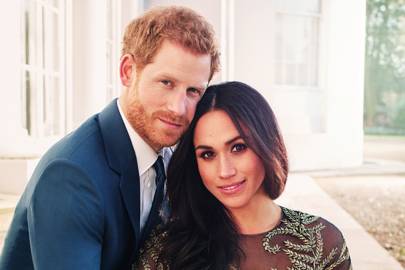 Kensington Palace has now released further details about the royal wedding. Harry and Meghan will complete a two-mile journey on the streets of London after exchanging their wedding vows in front of the Archbishop of Canterbury, Justin Welby. The marriage service will last an hour, beginning at 12pm and finishing by 1pm, and it takes place in the castle's 15th century St George's Chapel.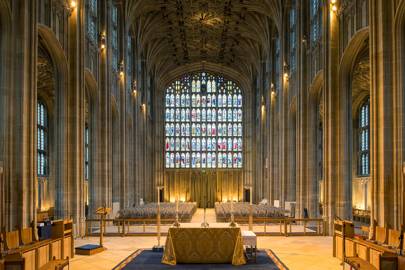 The route, in case you want to pop by to cheer them on (of course, you will) consists of a journey down Castle Hill, along the High Street and then along Sheet Street, Kings Road and Albert Road, before returning to Windsor Castle along the Long Walk.
Once they arrive back at the castle, the newly-weds will join guests from the ceremony at a reception at St. George's Hall and in the evening. The close friends and family party will be hosted by Prince Charles - as he did for William and Kate following their 2011 ceremony.
In the frantic mess of press and public watching their every move ahead of the wedding, it seems that Meghan's adopted a few tactics to staying out of the public eye and if the reports are to be believed, we could have walked past her in the street!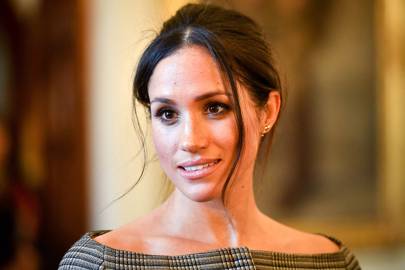 A source told E! News,
"She can't go anywhere without people recognising her. Everyone is in wedding fever, so if it isn't ordinary citizens who might stop her, it's the photographers who want to know everything they possibly can about the future royal."
They'll have to be quick if they want to catch her, though:
"There are six exits and entrances [at Kensington Palace]. She's been able to get in and out when she needs to, and she's doing very well with managing to go incognito."
Another anonymous source elaborated even further, revealing that Meghan even uses disguises to stay hidden:
"Kate [Middleton] can be spotted almost every day if people looked for her. But Meghan and Harry have taken their privacy to a whole new level. They swap cars all the time. Meghan's been using different disguises, hats. They're being extremely clever so they can go in and out without being seen. They are taking a completely different approach than William and Kate."
We don't blame them to be honest, it must be crazy right now. As well as keeping their privacy intact, the pair are keen to do as much good as they possibly can in the world, demonstrated by their request for wedding gifts.
Prince Harry and Meghan are apparently shunning a gift list and instead are asking their guests to donate money to Harry's charity via his Royal Foundation.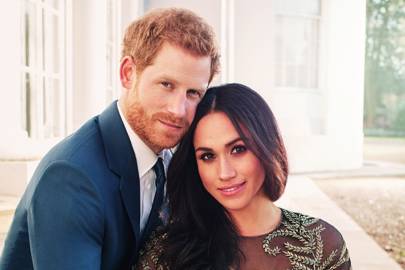 Discussing the decision, a source told The Sun: "Prince Harry is a man who has everything. He doesn't want guests spending lots of time buying him extravagant presents but he does want them to support his charity work.
"Obviously he has his own foundation with Prince William and Kate, and he also supports organisations like Wellchild and the Invictus Foundation.
"He's expected to provide more specific information with the individual invites."
While the vast majority of us won't make the cut and will be forced to watch the action on TV, it seems we're not alone.
According to The Mail On Sunday, even family members are being culled from the invite list.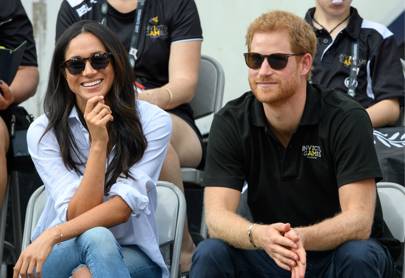 As Kensington Palace prepares to send out the invites, one person who won't find a coveted envelope on her doormat is Sarah Ferguson, Duchess of York.
Sarah, who was married to Prince Harry's uncle, Prince Andrew, has apparently been snubbed - just like she was from William and Kate's wedding.
Luckily for Fergie, she'll get to experience the excitement of a glittering wedding when her daughter, Princess Eugenie, walks down the aisle at St George's Chapel, Windsor, in October.
Meghan and Harry made their TV debut as a couple earlier this week in a special BBC interview with Radio 4 presenter Mishall Husain following their engagement news. As you can expect, we were *swooning* over their cuteness throughout.
The newly engaged royals opened up about everything, from the moment Harry proposed (over roast chicken) to how they first met and their romantic getaway to Botswana, which happened just after their second date.
The couple explained, while holding hands and adorably looking into each others eyes, that they were set up on a blind date by a mutual friend - yes, really.
"I think about three, maybe four weeks later that I managed to persuade her to come and join me in Botswana," said Prince Harry. "We camped out with each other under the stars. She came and joined me for five days out there, which was absolutely fantastic."
When asked what his late mother, Princess Diana, would think of their engagement, Prince Harry, 33, said she'd be "jumping up and down" before saying that he believed Meghan, 36, and Diana would have been "thick as thieves... best friends."
Harry also spoke about Meghan's stunning engagement ring, explaining its comprised of two diamonds from Princess Diana's personal collection and one centre stone from Botswana, on top of a classic yellow gold band.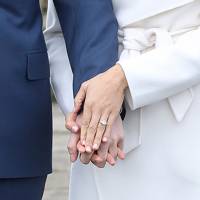 The news of Harry and Meghan's engagement broke in November via a statement made on the Kensington Palace Instagram account.
The statement reads:
"His Royal Highness Prince Henry of Wales and Ms. Meghan Markle are engaged to be married. The Prince of Wales made this announcement this morning:
His Royal Highness The Prince of Wales is delighted to announce the engagement of Prince Harry to Ms. Meghan Markle.
The wedding will take place in Spring 2018. Further details about the wedding day will be announced in due course.
His Royal Highness and Ms. Markle became engaged in London earlier this month. Prince Harry has informed Her Majesty, The Queen and other close members of his family.
Prince Harry has also sought and received the blessing of Ms. Markle's parents.
The couple will live in Nottingham Cottage at Kensington Palace."
It's been reported that as Meghan is American she will become a British Citizen, as well as being both baptised and confirmed into the Church of England before the big day.
Back in September during the 2017 Invictus Games in Toronto, Prince Harry and Meghan Markle made their first joint appearance, holding hands for the cameras and being all cute.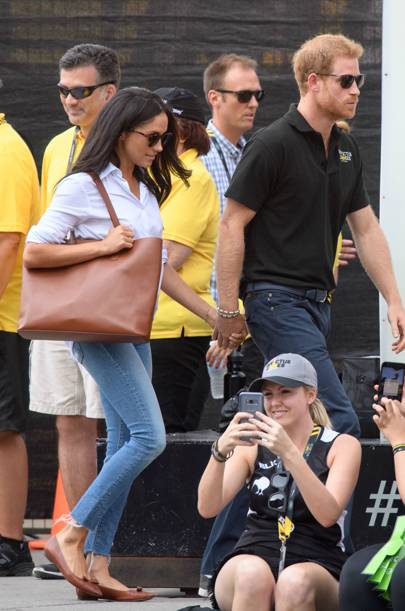 The former Suits actress (yep, she has quit the show) also spoke about her boyfriend for the first time.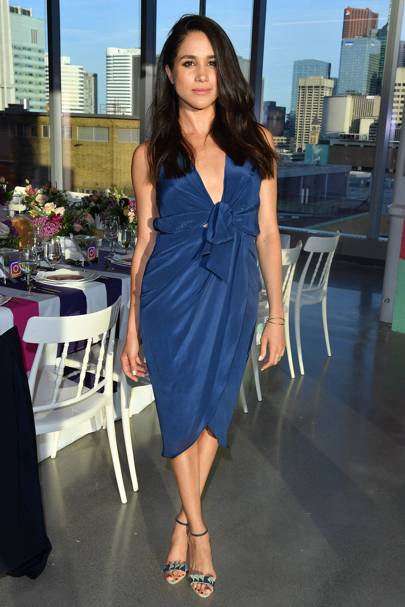 In an interview with Vanity Fair, she said of her royal beau: "We're a couple. We're in love. I'm sure there will be a time when we will have to come forward and present ourselves and have stories to tell, but I hope what people will understand is that this is our time. This is for us. It's part of what makes it so special, that it's just ours. But we're happy. Personally, I love a great love story."
Late last year, the Prince was forced to release a statement regarding his relationship with Meghan and the racism she has faced on account of it. Speaking about how her relationship has been affected by its high profile, she said: "It has its challenges, and it comes in waves - some days it can feel more challenging than others," she said. "And right out of the gate it was surprising the way things changed. But I still have this support system all around me, and, of course, my boyfriend's support."
She went on: "I can tell you that at the end of the day I think it's really simple.
"We're two people who are really happy and in love. We were very quietly dating for about six months before it became news, and I was working during that whole time, and the only thing that changed was people's perception. Nothing about me changed. I'm still the same person that I am, and I've never defined myself by my relationship."
25 things we bet you didn't know about Meghan Markle
25 things we bet you didn't know about Meghan Markle

Scroll down to see more of Meghan's stunning beauty looks...
Meghan attended a Christmas lunch for the extended Royal Family at Buckingham Palace, keeping it simple with straight locks, some smoky eyeliner and glossy lips.





When her engagement to Prince Harry was announced, Meghan looked stunning with relaxed waves and flushed cheeks. Does one even need blusher when you're *that* happy?





Meghan Markle recently revealed that magazines continue to airbrush out her freckles and whiten her skin tone. But she reminds herself: "A face without freckles is a night without stars."





We're not sure what we love more here: the stunning smoky eye and nude lip combo, or the intricate chignon hairstyle!

Meghan keeps it simple with straight locks and a pretty pink glossy lip.

We love a good side-sweep, and Meghan's glossy waves suit the style perfectly.

Just how does Meghan get her lashes that long?! And let's not even get started on that super shiny hair...

Another side-swept style, and those brows are giving us all the beauty goals...

This look is pure retro beauty perfection. From the vintage waves to the perfect matte red lipstick, it just works.

We love the slightly undone feel to this style, especially the pretty updo.

This look is simply stunning. The long lashes and red lips compliment each other well, while Meghan's chic hairstyle is the stuff of dreams!

Could her hair look any prettier? We're following Meghan's lead when it comes to gorgeous waves.

Meghan's perfect lashes strike again, alongside a pretty flushed glow.

After seeing this picture, we're totally going to try the extreme side-parting.

A scraped-back style accentuates Meghan's flushed cheeks and that gorgeous pink lip shade. Top marks to Markle!

Meghan shows off the perfect 'no-makeup makeup' look: glowing skin, lashings of mascara and some clear gloss.

Meghan proves she can do rock'n'roll chic better than anyone else!

She's a big fan of gorgeously styled updos, and this is one of our ultimate faves.