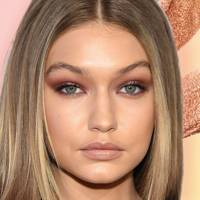 If you love rose gold, you need these in your beauty kit
Petal Metal Shimmer Drops, £30,

These drops of rose gold (literally) will light up your life thanks to the intense pigments and versatile formula. Add into your foundation for all-over rosy radiance or dab directly onto cheekbones or lips for the ultimate shimmery accents.

Zoeva Rose Gold Makeup Brushes, £65,

There was a time when wherever you looked on Instagram, these could not be avoided - and for good reason. They are the prettiest set of tools we ever did lay eyes on.

Huda Beauty Textured Shadows Palette - Rose Gold Edition, £56,

A constant sell-out, Huda's incredible palette has some of the most amazing shades. Our favourites are the top row glitters. Divine.

MUA Undress Your Skin Shimmer Highlighter in Rosewood Glimmer, £3,

A rose gold highlighter? For under a fiver? SOLD. I mean, just look at it...

Tom Ford Eye Colour Quad in Honeymoon, £66,

Another eyeshadow palette that seems to be constantly out of stock, Honeymoon contains the most amazing shades which, when mixed together, create a perfect rose gold eye. It's in stock at Harvey Nichols right now, GO GO GO!

Stila Liquid Eye Shadow in Rose Gold Retro, £23,

If you're into ultra shimmery formulas, this is a total dream. Wear this and we guarantee you'll get a bunch of compliments and questions. It's up to you whether you share the secret...

Christian Louboutin Beauty Nail Polish in Preciosa, £38,

Is this the most pricey rose gold nail polish? Quite possibly. But is it the most beautifully packaged, luxurious nail polish? Absolutely!

Christian Louboutin Beauty Lip Gloss in Preciosa, £65,

More about the lips? Try Louboutin's matching gloss.

Rosie For Autograph Eyeshadow Palette in Copper Gold Rush, £18,

This purse-friendly palette not only contains some stunning shades, but is also encased in a reflective copper tin. LOVE.

Jouer Long-Wear Lip Crème Liquid Lipstick - Rose Gold Collection, £15,

The most pigmented liquid lipstick, this is ultra metallic and shiny. We can't get enough.

NARS Lipstick in Sexual Healing, £21,

If you don't fancy diving head-first into full on rose gold lips, this is a great option. NARS' lipstick offers a subtle pink-gold sheen that suits everyone.

Too Faced Prismatic Highlighter in Ray Of Light, £25,

Too Faced is always coming up with the most Instagram-friendly makeup, and their latest rose gold highlighter is certainly no different. Oh, and it looks stunning on.

Cover FX Custom Drops in Blossom, £34,

Perfect for rose gold-ifying pretty much any of your makeup, this is a must-buy.

Huda Beauty Liquid Matte Lipstick in Socialite, £18,

Obsessed with Huda's iconic rose gold palette? Then you must buy the accompanying matte lipstick, naturally.

Tom Ford Double Decked Eyeshadow in Golden Peach, £48,

Having worn the creamy peach shade in this combo for months and having received numerous compliments, I can attest to its brilliance. Pat the golden powder over the cream for an extra special finish.