Travis just shared the most adorable photo of his of quality time with Stormi Jenner
Since Kylie Jenner gave birth to her daughter Stormi in February, we've been regularly receiving updates from the new mother, who's settling into motherhood nicely.
Despite being trolled for leaving Stormi at home to go to Coachella (can mums not have lives now?), she's happier than we've ever seen her and all of her posts make us say "awww!".
The latest snap from the highly successful beauty mogul is arguably the sweetest yet.
Although we've seen Travis post photos of the little cutie, the latest Instagram post shared by the couple is the first time they've been pictured side by side.
He captioned the adorable snap: "Big mood! Teach my Stormi to love,
I'll forever protect that smile."
Kylie then followed suit posting a super cute mother-daughter pic on her own account.
In celebration of her 21st birthday, Kylie recently took to Instagram to credit her 'little angel'.
She wrote: "bringing in my birthday tonight with my most special gift. What was life before you, Stormi. I love you my little angel."
Literally, could Stormi BE any cuter?
She also shared a super cute snap showcasing a rare makeup free, messy-haired Kylie. We just adore her freckles!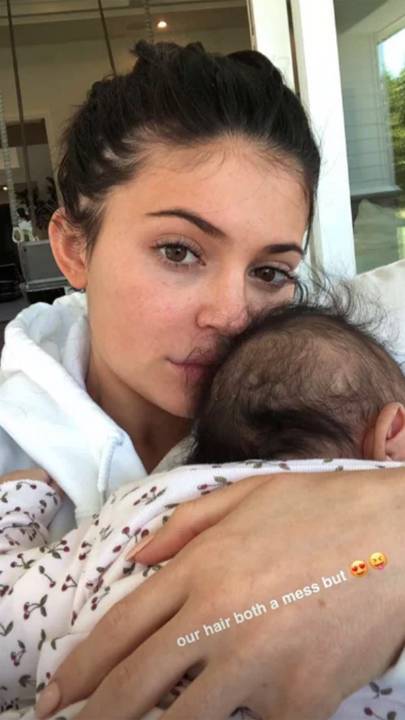 Ky looks totally smitten with Stormi, who gives her mama a cheeky smile as they cuddle. SO CUTE!
Kylie also recently shared photos of her post-baby-bod in a curve-hugging dress, and she looks incred! She's previously come under fire from fans who urged her not to rush dropping a couple of sizes for the sake of the 'gram and to instead, spend time with her daughter.
The post celebrated the launch of her new collaboration with her sister Kourtney, which dropped in the past 24 hours.
Many of the items from the collection sold out instantly, as you'd expect - it's gorgeous!
Kylie seems like she's got this boss lady/hot mama/cool girl thing all under control. Let's check out some of our favourite makeup moments from the beauty queen...
On Wednesdays on Kylie Jenner

Kylie chose to wear one of her favourite Lip Kits for her pink GLAMOUR cover. The shade is called 'On Wednesdays', in reference to the movie Mean Girls.

On Wednesdays is a true bright pink.

Matte Lip Kit, $29,

Say No More on Kylie Jenner

Kylie has released three new Lip Kit shades and they are bold and bright. According to her Insta this is her new favourite Lip Kit, a shade called 'Say No More'.

Say No More is a neon pink.

Velvet Lip Kit, $27,

Boss on Kylie Jenner

The new velvety formula sure looks lush and the cherry red Boss colour is one of *our* new favourites. Well done, Kylie.

Boss is a soft cherry.

Velvet Lip Kit, $27,

Ironic on Kylie Jenner

Ironic caused major controversy online. People were not fans of the bold green on Kylie's lips - but when Fenty did it, no one said a word, huh?!

Ironic is a dusty army green.

Velvet Lip Kit, $27,

Birthday Suit on Kylie Jenner

Kylie dropped her Vacation Edition Collection, that comes with a gorgeous set of nude liquid lipsticks, this one is Birthday Suit.

Birthday Suit is a nude warm beige.

Matte liquid lipstick set, $45,

Doll on Kylie Jenner

Following the success of her first collab with Khloé, Kylie's 2.0 In Love With The Koko sold out in minutes.

Doll is a true bright tangerine.

Liquid lipstick set, $40,

Heir on Kylie Jenner

Kylie Jenner looked awesome in Heir as she hit up Coachella festival.

Heir is a golden metallic peach.

Lipgloss, $18,

Head Over Heels on Kylie Jenner

This shade works perfectly on this shoot for Kylie Cosmetics

Head Over Heels is a deep plum.

Lip Kit, $29,

Maliboo on Kylie Jenner

You can never have too many nudes.

Maliboo is a light cool-tone nude.

Lip Kit, $29,

Love Bite on Kylie Jenner

A dramatic look for the youngest Jenner - but she looks amazing.

Love Bite is a rich plum brown.

Lip Kit, $29,

Literally on Kylie Jenner

This is a paired back look for Kylie and those lips are really dominating the look.

Literally is a neutral mid-tone nude gloss.

Gloss, $15,

Dead of Knight on Kylie Jenner

it's not for the shy types.

Dead of Knight is an intense true black.

Lip Kit, $29,

Leo on Kylie Jenner

Kylie kept her look fairly natural but really amped up the look with berry stained lips.

Leo is a true deep burgundy.

Lip Kit, $29,

Exposed on Kylie Jenner

This is Kylie's favourite lip kit shade, apparently.

Exposed is a warm mid tone beige.

Lip Kit, $29,

True Brown K on Kylie Jenner

This is basically Galaxy chocolate on your lips, and when is that ever a bad thing?

True Brown K is a deep chocolate brown.

Lip Kit, $29,

Kristen on Kylie Jenner

If you want a pop of colour that's not red, this is it.

Kristen is a warm brown berry.

Lip Kit, $29,

Kourt K on Kylie Jenner

Love this vampy shade named after Kylie's big sister Kourtney.

Kourt K is a deep purple.

Lip Kit, $29,

Mary Jo K on Kylie Jenner

This vibrant red was named after her grandmother, and we think it'll make your teeth look super dooper white. When this was launched on Valentine's Day weekend it sold out in 10 minutes.

Mary Jo K is a true blue red.

Lip Kit, $29,

Ginger on Kylie Jenner

This is giving us major 90s makeup vibes.

Ginger is a warm terracotta brown.

Lip Kit, $29,

Dolce K on Kylie Jenner

Seriously, how many nudes can one girl create? Not that we're complaining...

Dolce K is a deep beige nude.

Lip Kit, $29,

Dirty Peach on Kylie Jenner

This is a suits-all shade if you ask us.

Dirty Peach is a mid-tone yellow peach.

Lip Kit, $29,

Candy K on Kylie Jenner

Kylie posed for this shade in her car - her favourite place to show off her lip colours.

Candy K is a warm pinky nude.

Lip Kit, $29,

Freedom on Kylie Jenner

Blue lips is a hard look to pull off, but Kylie manages it perfectly. The look is discontinued as it was part of a limited edition lip kit collection.

Majesty on Kylie Jenner

Another limited edition, and this one was a black metal matte. It's no longer available.