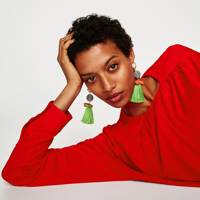 Tassel earrings: The trend that won't go away (and we're fine with that)
The Instagram fash pack are obsessed with tassel earrings, and so are we. Statement accessories really do elevate a look, and a pair of big tassel earrings can give your plain boring outfit the oomph that it needs.
The Frugality loves her champagne coloured tassel earrings...
Megan Ellaby has voted for neon green!
Just Missed The Runway went bright as well...
And Lucy Williams really did bring summer vibes to her Insta with the help of these...
Whichever colour you choose, you're going to find your favourites below, so keep scrolling...
Dusty pink tassel earrings, £10,

Lilac tassel earrings, £30.28,

Green tassel earrings, £12.99,

Pink tassel earrings, £12.99, Zara

Red tassel earrings, £14, Topshop

Blue tassel earrings with diamante detail, £12,

White tassel earrings, £12,

Tassel earrings, £12.99, Mango

Gold tassel chain earrings, £30, Whistles at

Fun tassel earrings, £65,

Turquoise and pink tassel earrings, £95, Soru Jewellery

Yellow tassel earrings, £26, Johnny Loves Rosie at

Chandelier tassel earrings, £12.50,

Pink tassel earrings, £9.99,

Tasseled beaded clip earrings, £500, Oscar de la Renta at