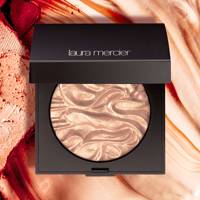 NikkieTutorials' new highlighter release is out of this world
The humble highlighter has climbed its way up the priority list over the years, now sitting proudly among the golden oldies like foundation and mascara as a must-have makeup product. And we can see why.
With body highlighters now on the rise, it's clear this blinding trend is going everywhere fast. Whether you want to strobe, shine, contour, glow, or simply radiate from the inside out, then there's a highlighter that will do the job.
And one particular highlighter could be about to head to the top spot, as makeup mogul and YouTuber, NikkieTutorials, is releasing her THIRD collection with Ofra Cosmetics including a super bright highlighter.
"It's time for you to meet Space Baby coming out very, very soon!" she wrote on Instagram.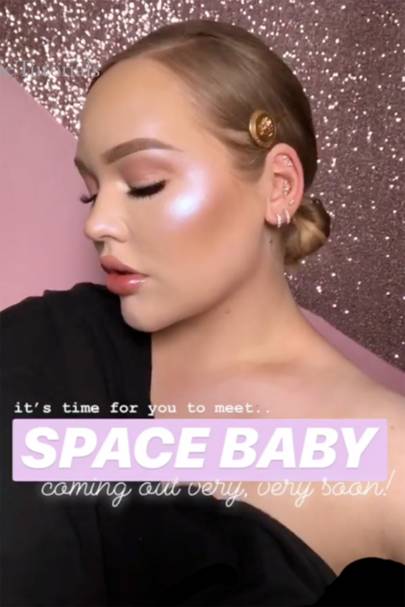 From what we can see, the highlighter is an icy, cool-toned formula with a subtle purple tint to it- futuristic space AF.
And a spokesperson for Ofra told Allure that this isn't the only illuminator in the collection, and judging by the brightness of Space Baby, we're expecting big things from the other and can't wait for the release.
Whether it's pearlescent silvers or glowing bronzers you're after, we've got a roundup of the best options in town. You glow, girl.
Out of highlighter? Check our DIY highlighting hacks on how else to get the glow.
Face Illuminator, £32,

Mesmerising in the pan, and even more mesmerising on the skin, Laura Mercier's highlighter is powder in texture but dewy in finish. It's also easily buildable, so you can go from subtle to woah glow, depending on your mood.

Dew Drops Coconut Gel Highlighter, £32,

This glowy God-send is essentially dewy-skin in a bottle. It's a high-shine pearlescent liquid, and a little goes a loooooong way. Dab a small amount in a 'c' shape from the top of your cheekbone to your temple and gently buff into the skin.

Hollywood Beauty Light Wand, £29,
Super simple to use, just wave this wand (OK, obviously it has to touch the skin, but you get the point...) over cheekbones, brow bones and temples for a high gloss but glitter-free effect. Sheer and neutral, it will work on any skin tone, too.

Bronze Sands 3D Highlight Palette, £40,
We can't help but go a bit teenager-at-a-Justin-Bieber-concert giddy when Huda drops a new product, and this had us screaming. In a good way. Great for darker skin tones, use it to contour and highlight to your heart's content. And then selfie the sh*t out of it.

Custom Enhancer Drops, £34,
Formulated to mix into your skincare or foundation, or layer on top of powder, this cult product adds an extra dimension to a dull or flat base. The liquid is smooth not sticky, and doesn't clog pores or cake on the skin. There's a colour for everyone, from the subtle bronze of 'Moonlight' to the Mermaid-y, iridescent 'Halo'.

Killawatt Freestyle Highlighter, £26,
Want subtle? Natural? Just a hint of a glow? Look away now. This stuff is GOLD girl. Brilliant, buildable, long-wearing, shiny, blingy, unashamedly GOLD. Light-catching, eye-catching, mega stuff.

Nudies All Over Face Colour Glow, £30,

This creamy stick of glowing goodness is a staple in our beauty writer's makeup bag. It's available in three shades: 'Brown Sugar, Baby', 'Hey, Honey' and 'Illumi-naughty'. The latter is the silvery shade pictured, which blends into a fair complexion to add a super-dewy sheen. It's far from powdery or glittery, and looks particularly lush when applied on the cupid's bow.

Illuminating Powder, £42,
Kinda creamy, kinda powdery, this sits beautifully on the skin giving the tiniest hint of shimmer and a teeny touch of bronze, gold or pink colour. Tres chic, as you would expect from Chanel.

Magic Luminizer, £36,
Not only does this cream - loved by celebrities and beauty editors - give a flawless, luminous, seamlessly blendable finish, but it also nourishes skin with jojoba and coconut oil. A beauty boffin's must-have.

Strobe of Genius Illuminating Highlighter Palette, £16,
You can't really go wrong with 7 highlighters for the price of one, and especially when they're as good as these. Illuminating and velvety-smooth, mix-and-match them to go beaming-bronze or glistening-glow.

Copacabana Illuminator, £23,
Glide this over the cheekbones for a pop of perfectly pink and pearlescent shine. Or mix a drop into your base product for an all-over glow. Or just enjoy Barry Manilow's crowd-pleasing song which is undoubtedly now playing in your head.

Gleam, £25,
This creamy formula adds an iridescent glow rather than a blinding shine. If you've got oily skin, this one - buffed in so there's no 'slick' - is for you.

Ambient Lighting Powder, £40,
If you want to use highlighter but don't want to look like you use highlighter, give this a try. The golden-beige shade gives a sun-kissed glow, and the finely milled pigment blurs pores whilst reflecting light.

Strobe Cream, £25,
One of the first and still one of the best, brighten up dull skin with a sneaky strobe. A tiny bit - patted on with your fingertips - goes a long way, so expect the tube to last forever. And ever. And ever.

'Love Lights' Prismatic Highlighter, £25 each,
Giving us serious Polly Pocket vibes, these give radiance with a touch of shimmer. Our fave is 'Ray of Light', because we're suckers for a bit of rose gold.

'Moonstone' Shimmering Skin Perfector Best Highlighter, £32,
The ultimate in iridescent pressed powder glow, 'Moonstone' is a pale honey tone that suits both fair and darker complexions. Expect all-day highlight with a light dusting.