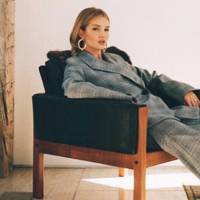 27 of our favourite trouser suits that'll keep you surprisingly cool in this never-ending heatwave
As the weather continues to hot up, many female office-dwellers panic that it's time to delve into the skirt-suit arena. But - for those of us more comfortable with a little extra leg coverage - this season's trouser suits are thankfully cooler than ever.
Offering up a smorgasbord of colour options via a whole manner of leg lengths and widths, there are suits to suit every style.
3 Ways To Wear... Trouser suits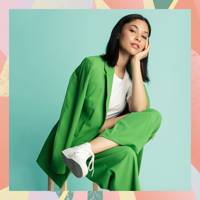 3 Ways to Wear
3 Ways To Wear... Trouser suits
Whether you're into pastels or bold colours, prints or textures, we've picked out the very best trouser suits to snap up right now...
Got the suit, need a little more advice? Here's our guide on how to style this season's suits.
Jacket, £79.99,
Trousers, £59.99,

Jacket, £890,
Trousers, £472,

Jacket, £59.99,
Trousers, £49.99,

Jacket, £550,
Trousers, £415,

Jacket, £617,
Halterneck Blouse, £149,
Trousers, £169,

Jacket, £270,
Trousers, £200,

Jacket, £79.99,
Trousers, £39.99,

REJINA PYO

Jacket, £550,
Trousers, £425,

ZARA

Jacket, £79.99,
Trousers, £39.99,

HILLIER BARTLEY

Jacket, £1,495,
Trousers, £595,

Jacket, £2,425,
Trousers, £1,000,

TOPSHOP

Trousers, £32,

ZARA

Jacket, £89.99,
Trousers, £39.99,

TOPSHOP

Jacket, £69,
Trousers, £56,

MANGO

Jacket, £69.99,
Trousers, £29.99,

ZARA

Jacket, £79.99,
Trousers, £39.99,

ZARA

Jacket, £69.99,
Trousers, £39.99,

MICHAEL LO SORDO

Jacket, £330,
Trousers, £470,

RACIL

Jacket, £820,
Trousers, £430,

ZARA

Jacket, £79.99,
Trousers, £39.99,

TOPSHOP

Jacket, £49,
Trousers, £30,

TOPSHOP

Jacket, £60,
Trousers, £40,

MANGO

Jacket, £59.99,
Trousers, £29.99,

CHRISTOPHER KANE

Jacket, £1,145,
Trousers, £555,

MANGO

Jacket, £69.99,
Trousers, £35.99,

URBAN OUTFITTERS

Jacket, £35,

MANGO

Jacket, £59.99,
Trousers, £49.99,