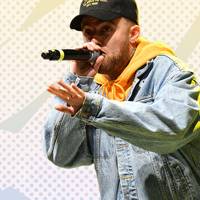 Ariana Grande opens up about Mac Miller's death on Instagram
It's been one week since 26-year-old rapper, Mac Miller, was found dead on Friday (7th September) at his San Fernando Valley home, and tributes have been flooding in for the star ever since.
reported that the musician and ex-boyfriend of Ariana Grande, died of an apparent drugs overdose, at around noon local time.
And after an (understandable) week of silence from Ariana, she has finally opened up about his death in an emotional Instagram post.
Alongside a video of Mac telling her a story, she wrote: "i adored you from the day i met you when i was nineteen and i always will.
"i can't believe you aren't here anymore. i really can't wrap my head around it. we talked about this. so many times. i'm so mad, i'm so sad i don't know what to do. you were my dearest friend. for so long.
"above anything else. i'm so sorry i couldn't fix or take your pain away. i really wanted to. the kindest, sweetest soul with demons he never deserved. i hope you're okay now. rest."
While she didn't respond publicly in the immediate aftermath, 25-year-old Ariana broke her silence on Mac Miller's tragic death by sharing a black and white photo of the rapper, who has previously battled substance abuse.
Ariana poignantly published the image with no caption.
In the photo, which appears to have been taken by the young singer herself, the rapper can be seen sitting on a patch of grass happily gazing up at the camera.
Trolls cruelly accused Ariana of 'abandoning' Mac in his time of need but earlier in the week, one of his friends has taken to her defence.
Speaking on his podcast, Shane Powers said: "There could not have been anybody more supportive of him being sober than Ariana.
"Ariana and him were together, and they were very much in love and I have to say, she was incredible when he was first sobering up. She was a f****** G to him.
"She was deeply helpful and effective in keeping Mac sober and helping him get sober. And she was all about him being healthy, period, in this area of his life."
He also divulged that Ariana would often call him asking how she could help, explaining: "This little girl was unbelievably involved and helpful to him being healthy. Because whether he [was] an addict or not, the way that Mac partied was not healthy."
Tributes began pouring in for the star from friends and fellow celebrities as soon as the terrible news broke.
Ariana Grande and Mac Miller have been linked since 2013 when he appeared on her song 'The Way'. They split in 2018, with Ariana publicly confirming the news. She wrote,
"Hi! This is one of my best friends in the whole world and favorite people on the planet Malcolm McCormick."
"I respect and adore him endlessly and am grateful to have him in my life in any form, at all times regardless of how our relationship changes or what the universe holds for each of us!"
"Unconditional love is not selfish. It is wanting the best for that person even if at the moment, it's not you.
"I can't wait to know and support you forever and I'm so proud of you!!"
After they split, Ariana was targeted on Twitter who called their split 'heartbreaking'. She responded with a lengthy note:
We wish Mac's friends and family our sincerest condolences during this sad time.