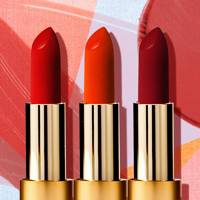 This genius makeup artist's hack will ensure your Christmas red lip stays all day
Finding your perfect red or the right matte lipstick is kind of like Tinder - looks can be deceiving. Just because the first swipe results in an impressive show of colour, it doesn't mean they won't turn out to be a dried up dud.
So when creating her own lipstick collection, makeup artist Lisa Eldridge's answer to this matte lip (and boyfriend) dilemma, was to create a velvet texture, with a subtle reflective sheen to help colour maintain a creamy, rich look and feel as it wears.
Having worked with Rihanna, Emma Watson and Rosie Huntington-Whiteley, Lisa's also a pro when it comes to application technique.
"Lipstick will always look better and last longer on smooth, well-hydrated lips, so apply a layer of balm and let it get to work while you're doing your base and if your lips are flaky, roll a Q-tip along them - apply a bit of pressure as you go (this will gently remove any dry bits)."
And her tips for getting three finishes from one bullet?
"For a full Hollywood pout, apply the first layer with a lip brush working the colour deep into the lip and blot. Then, using a lip pencil, perfect your lip shape, buffing it a little on to the lips to blend. Then apply a second coat of lipstick. This three layer stain increases the longevity and gives an uber sharp and professional finish," says Lisa.
Alternatively, for a modern, blurred edge, "Apply lipstick straight from the bullet, gently blot and apply a second coat dabbing the colour over the top. Finish off by gently tapping the colour around the edges of the lips for a relaxed, slightly blurred edge."
If a bitten stain is more your thing, "Dab your ring finger tip on the lipstick and then pat lightly onto lips. Keep adding until you get your perfect level of colour and diffusion."
Now, all that's left is to find your perfect autumn winter shade from these long-lasting, non-drying and liquid formulas...
Le Rouge Crayon De Couleur Jumbo Longwear Lip Crayon, £31,
If it's long-wear you're after, Chanel have absolutely nailed their latest matte formula. It glides on like silk, but dries to a powdery finish that does. not. budge. But unlike other mattes that may ball and crack as the day goes on, this one stays smooth and comfortable (even after eating and drinking).

Velvet Lipstick, £26,
Inspired by a shoot where makeup artist Lisa Eldridge literally stuck velvet fabric to lips, she created a lipstick formula to mirror the subtle sheen of the fabric, marrying intense pigments with a light-reflective sheen. These limited editions come in three red shades - Velvet Jazz a brick red, Velvet Morning a vibrant orangey red and Velvet Ribbon a true red with blueish tones. Available from 19th November.

Rouge d'Armani Matte Lipstick in 'Nightberry', £30,
Nothing says winter is here quite like a grey knit jumper matched with a deep berry lip. This one will be our go-to for the season – think bold colour in one swipe and a magnetic bullet that satisfies at every closure.

Mattemoiselle Plush Matte Lipstick in Saw-C, £16,

The Fenty matte lipsticks are really long-wearing (can survive multiple cups of tea) and Saw-C is a show-stopping orange on all skin tones. We love the slim bullet too because it means we can carry multiple shades at a time.

Stay Matte Liquid Lip Colour in Pink Bliss, £5.99,

This is the perfect MLLB (my lips but better) shade for light and cool skin tones.

Liquid Matte in Trophy Wife, £18,

This berry liquid lipstick is an ideal autumn shade. Be careful when applying, as once it's on it won't budge.

Matte Lip Kit in Koko-K, £20,

We coudn't forget the queen of lip kits now could we? Koko-K is our favourite nude shade from the original collection.

Retro Matte Lipstick in Ruby Woo, £17.50,

Ruby Woo - possibly the most iconic of Mac's shade and the most comfortable matte formula for long-lasting wear.

Matte Revolution in Pillowtalk, £24,

Even we found it hard to get our hands on Pillowtalk - the universal nude lipstick that sold out in seconds.

Kiss Kiss Matte in Spicy Burgundy, £27.50,

This lippy packs a pigment punch. The finish is more on the satin side and the colour payoff is next level. They're quite comfortable to wear as they're not super-matte matte, and the longevity will get you through the day with minimal touch-ups.

Matte Lip Paint in Heartbreaker, £4.99,

A big win for such a small price - Barry M's lip paint lipsticks glide on so smoothly. Be sure to prep your lips with a scrub and balm to avoid the bold colour settling into cracks. For a stronger matte finish, try the liquid lip paints.

YSL Beaute Rouge Pur Couture The Mats in Wood on Fire, £26,

This pretty rosewood colour glides on easily, feels as comfortable as a balm, but gives a fully fledged suede finish. You get all the colour pay-off minus the potential dehydration of a classic bullet lippy.

Smashbox Be Legendary Lipstick in Bing Matte, £17,
A clean matte red can be both classic and ultra sexy. This shade looks cool worn with a white tee and jeans, or sultry teamed with a black dress. We love how hydrating the formula is.


A sleek slim slanted applicator ensures precision application of this dramatic deep plummy hue.

Revlon Ultra HD Matte Lipcolor in Devotion, £8.99,
This gel formula glides on so easily for a featherlight finish that dries completely matte and delivers a super flattering mauvey pink.

Ciaté Liquid Velvet in Swoon, £17,
These matte lipsticks are extremely hydrating and a great alternative to a regular stain. The velvet finish ensures long wear and an even colour. Our favourite shade? This perfect peachy nude.

NYX Soft Matte Lip Cream in London, £5.50,
These silky smooth lip lacquers dry to a matte finish, with an opaque colour and incredible longevity - a MUST for a night out. We love this fleshy nude.

Maybelline Vivid Matte Liquid in Orange Shot
If you don't like a fully matte finish, this is right up your alley – you get the colour saturation with an almost creamy, satin texture.