A fake tan that develops in just one hour is getting rave reviews online
Ok, everyone you might want to stop whatever it is you're doing and listen up because there's a new life-changing fake tan in the hood and you're going to need to try it.
You know how carefully slathering on the fake tan evenly over our buffed bodies is enough of a faff but when we have to sit and wait for it to develop, avoiding water at all costs (*please don't rain, please don't rain*) and often ruining our bed sheets in the process because doing it while we snooze is easiest.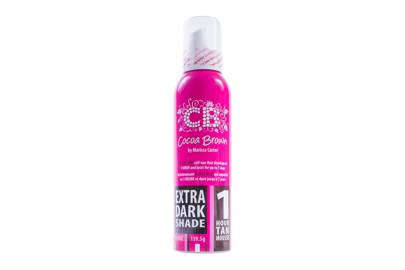 Well, things are about to change thanks to this new fake tan that's been hailed as the 'best-ever' by fans. And the absolute top thing about it? It takes a mere ONE HOUR to develop. Yes, you heard us right. One hour!
is a purse-friendly £7.99 and is racking up heaps of glowing reviews from bronzed fans who says that the bottle gives them the perfect golden tan in just one hour - no wonder Olivia Buckland is a major fan.
The 1 Hour Tan Mousse contains fast-acting ingredients that make applying this an absolute doddle with easy application, quick-drying and no stickiness. And it also smells pretty divine too, with the signature Cocoa Brown floral Tahitian Gardenia scent that will disguise the fact you're wearing any at all.
The long-wearing, golden colour lasts up to seven days and fades evenly, containing no parabens and moisturising your skin at the same time, does it get any better?

According to , the reviews on Superdrug's website speak for themselves:
"This is the BEST tan I have ever used. I have converted quite a few of my friends now."
"Better than some of the much more expensive ones around."
"Put it on last night and saw results straight away."
"This beats any fake tan I've ever used (and I've used a lot)."
See more of the best fake tans below...
Love a golden glow but looking for something different? We also have reviews on the best gradual tans, best tan for pale skin, bronzers, fake tans for your face and in-salon spray tans. Plus (we're spoiling you), our top tanning tips to make sure your fake tan looks the best it can be.
Wondering if you should get a spray tan before your holiday? We have the answer.
Best for acne-prone skin

Idéal Soleil Hydra-Bronzing Self-Tanning Milk, £10.50,

Results? A buildable, natural-looking tan that benefits from the glowy boost of hydrating thermal water. Not many products can work as well on the face as the body, but this gentle tan ticks both boxes.

Bonus features: Paraben-free and suitable for sensitive skin. It doesn't cause breakouts either.

Best for babes on a budget

Advanced Pro Formula 5-in-1 Tanning Mousse, £7.99,

Results? Colour so rich and realistic, others will ask where you holidayed. It lasts for ages, and responds well to top-ups.

Bonus features: Easy-to-spread foam formula, with a pump that only needs one hand.

Best for a deep glow

1 Hour Tan Dark Mousse, £7.99,

Results? Achieve an even and subtle hint of colour after one hour, a chocolatey tan after two and an intense Barbados-bronze if you stick it out for three.

Bonus features: Super-quick drying and an olive undertone to ensure zero traces of tangerine.

Best for a subtle day-to-day glow

The Body Illuminating Tan Drops, £42,

Results? That fresh, dewy, I-just-returned-from-the-beach-but-kept-my-SPF30-topped-up kind of tan.

Bonus Features: These handy drops can be added to any body lotion, oil or moisturiser to transform it into a bespoke self-tan. Add one drop for a weekend by the beach, or four for full-on bronze brilliance.

Best for girls on the go

Alpha Beta Glow Pad Gradual Glow, £34,

Results? Fancy a natural-looking, buildable tan without the fuss? Thanks to their easy-to-use design, these single-use wipes cut out the need for extras. Great for getting that glow on the go.

Bonus Features: Gentle exfoliating acids in the formula work to smooth the surface of skin, and help ensure an even, streak-free finish.

Prefer to build up your tan? Check out our list of the best gradual tanners of 2019

Best for a quick-fix

Self Tan Purity Bronzing Water Mousse, £31,

Results? An instant light gleam that develops into a golden tan with a noticeable glow.

Bonus Features: The formula feels refreshing to apply thanks to its Green Mandarin Water base and the hibiscus extract helps to shield skin from damage.

Best for those who hate that self-tan smell

Coconut Dry Oil Tan, £25,

Results? A heavenly-scented, natural-looking and skin-loving self-tan that lasts for five days.

Bonus Features: It is bursting with anti-oxidants to fight off free-radical damage caused by pollution and UV rays.

Best for clumsy tanners

Over It Magic Self-Tan Eraser, £17.95,

Results? Not only does new self-tanning brand Isle Of Paradise's formulas provide a flawless - and more importantly, odourless - bronzed glow, but this nifty product is essential for any mishaps or removals because, let's be honest, all good tans must come to an end.

Bonus Features: This magic remover gently exfoliates with glycolic acid but is also infused with coconut, chia seed and avocado oils to nourish.

Best for those who want flawless results

Bondi Sands Self Tan Foam Dark, £14.99,

Results: A really dark tan with golden undertones, for the ultimate Australian beach babe look.

Bonus Features: Dries in seconds and you can even shower after one hour (or try the one hour express for an even quicker, deeper colour). Ideal for those with olive skin as the results are really rich in colour - although it has gorgeous golden undertones that work brilliantly on fair skin types as well.

Best for an amazing glow that can be washed off

Body Blur, £29.95,

Results: Not just a tanner, this blurs a multitude of imperfections and is especially effective on the legs.

Bonus Features: What's more, it washes off, so don't panic if something goes wrong!

Best for fake tan virgins

Ambre Solaire No Streaks Bronzer Dry Body Mist, £10.99,

Results: A no-nonsense multi-angle spray tan that leaves a light tan, ideal for a subtle glow. A perfect product if you're new to the world of self-tan sprays.

Bonus Features: Multi-angle dry mist spray, apricot extracts to moisturise skin, quick-dry, no need to rub.